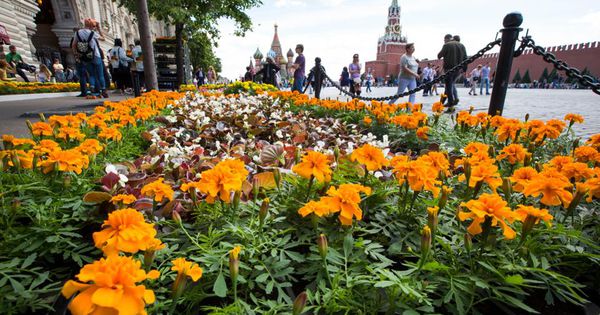 With cold and snow remaining in the U.S., it's no surprise that travelers are seeking faraway destinations this spring. Here's American Express Travel's forecast of trending destinations — the percentage up since last year at this time — and the reasons why, according to their internal booking data and expert analysis. It gives you an idea of what's hot, even when the weather isn't.
Maybe it's because Russia is in the news so much, but Moscow is trending most of all. April onward is when the city rids the slush and turns green again, temps are comfy for sightseeing, and city life is in bloom. Bookings are up +238% as May draws in travelers for the huge parades, fireworks and Russian street parties May 1-9th — a week of celebration.
Prince Harry and his fiancee Meghan like it here, and so it seems do lots of others. Botswana is trending up this spring for travelers looking to check a safari off their bucket list. The country is blessed with dramatic, watery wilderness areas and equally dramatic weather. Best months to visit are from April-October during the dry season for best game-viewing, and bookings are up +200%. March is the end of wet season and the best time for viewing exotic birds in Okavango and Morem.
When spring awakens in the Northern Hemisphere, it's autumn in Chile: crowds thin and the weather is comfortable. Savvy travelers are boosting bookings for spring +91%. Santiago and central Chile is rising +121% as its vineyards, cathedrals and artsy streets draw visitors.
From the sunsets in Oia to the blue Aegean Sea and with the reduced fares from March through May, travelers are heading to Santorini.  Bookings are up +94% right before high season in June, as the wildflowers and lush croplands and vineyards are blooming. The steep seascape derives from a volcanic eruption.
Doha, Qatar boasts high-end dining, luxe shopping, modern architecture, colorful souqs and adventurous excursions. The Islamic Museum designed by I.M. Pei is stunning. Bookings to Doha have spiked +79% over March and April, right before the temperatures rise. Doha's Qatar International Food Festival draws  visitors from around the world from March 23-April 8th.
Travel to St. Louis is up +60% this spring as the Botanical Gardens are in full bloom and the city bustles with events and festivals. Breweries, baseball and live music performances are a major draw to this rising city, and 'the loop' boasts bars, galleries and restaurants.
Amsterdam, Netherlands +32% 
Picturesque canals beckon travelers to Amsterdam, trending up 32% this spring. As Holland thaws out from the long winter,  spring months bring tulips at Keukenhof and Vondelpark. Amsterdam in late April has King's Day. A citywide celebration showcases history and culture – and don't forget your orange-colored clothing!
Source Link:- https://www.forbes.com/sites/lealane/2018/04/03/the-ten-travel-destinations-trending-most-right-now-hint-putin-should-be-happy/