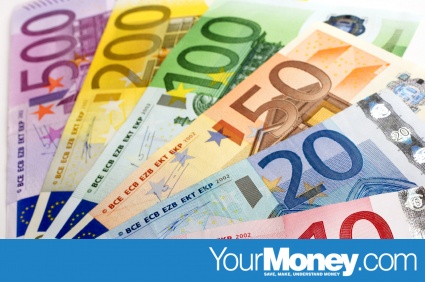 The pound hit an 11-month low against the dollar this week and it also fell against the euro. For holidaymakers, this is unwelcome news, but here are top tips to get the best deal on your exchange.
If at all possible, don't leave exchanging your money to the last minute. Converting pounds at airport bureaux could cost you 20% more than if you had ordered it in advance.
As an example, MoneySavingExpert's Travel Money Max tool compares top rates, so holidaymakers ordering €1,000 for a family of four will pay £907.44 with TravelFX, including delivery.
But if you were to leave changing currency at the airport, the same €1,000 would cost you £1,094.93 at Heathrow's Travelex store on a walk up rate of 0.9133. That's a difference of £187.49 or 20.66%.
Emma Grimster, of comparison site, TravelSupermarket, said: "If you have left sorting your travel money until last minute, if you order from Travelex at least four hours in advance for collection at the airport, you would secure a much better rate of 1.0861 and pay £920.73 – £174.20 less.
"However, that's still £13.29 more than ordering for delivery in advance, plus you would also have to factor in time to queue and collect your money at a time of year when airports are very busy."
Grimster said a good option is to take a mixture of cash, debit/credit cards and/or pre-paid cards, so that you don't carry too much cash and rely on just one form of payment.
She said: "Pre-paid cards can also be a good option in helping you stick to a budget when abroad. Just pre-load your cash before you go and use it as a debit or credit card. However, if you plan to use a card abroad, be it a pre-paid, debit or credit card, make sure you're aware of any charges to use it for both cash withdrawals and purchases."
It's also advisable to take out a comprehensive travel insurance policy that offers travel money cover, adjusting the amount of cover you require. This will give you protection if your money is lost or stolen.
Other ways to save and protect your money, include:
Always pay in the local currency where you can to avoid exchange charges. Paying in sterling will cost you more as the retailer may take an extra cut on top of the charges your card issuer will be making.
Use safety deposit boxes in your hotel room and keep your cards and cash locked away when you don't need them, only taking out the cash or cards you need.
Make a note of your bank's contact number for calling from overseas should your cash or cards get stolen.
For those who've yet to book a holiday, Grimster suggests carefully considering your destination and board type: "When deciding where to go, it is worth looking at the cost of living in your resort, and also whether you go for an all-inclusive option or room only/self-catering. If you're looking to control costs and stick to a budget, going all-inclusive could be a good option for you."
Source Link:- http://www.yourmoney.com/saving-banking/pound-dives-dollar-euro-top-travel-money-tips/