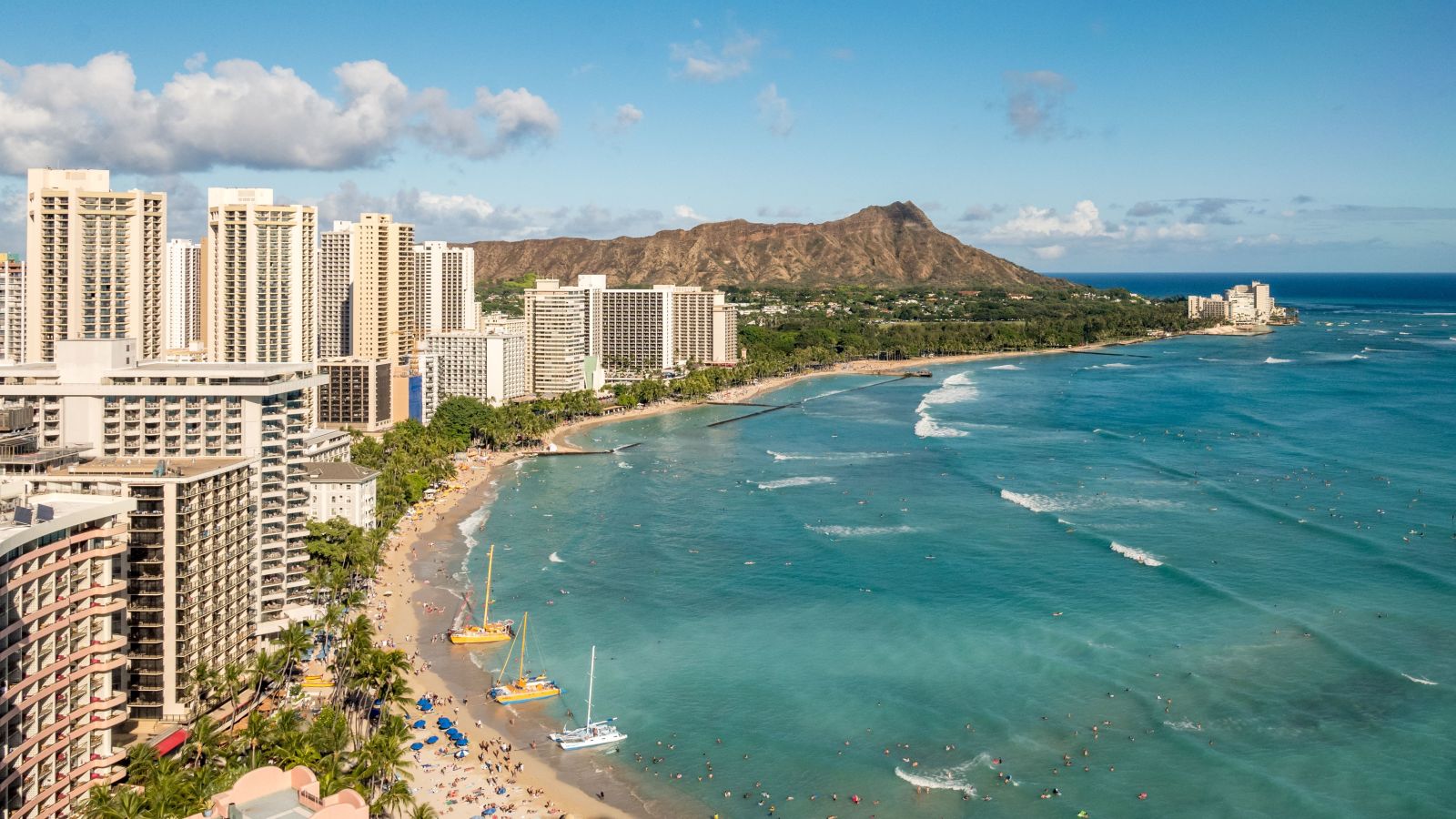 Aloha, everyone! ("Aloha, Lifehacker!") We got great travel tips this week for Honolulu and the rest of Hawaii. Go read all the best tips under the "Staff" tab in this comment thread, or just skim the highlights below.
Each Monday on Hack Your City, we ask readers for your best tips on a city: driving tips, restaurant recs, things to do, and any other advice for visitors and locals. Then on Thursday, we present the best comments. We're working our way around the U.S. and around the globe.
Honolulu
While katie_keys prefers the Big Island (a local name for the island of Hawaii), she has some Honolulu recs: "Honolulu is a place to grab a fishing charter, and it's got some great food options downtown. You can also visit Iolani Palace and the art museum, so having a day to wander around isn't a terrible idea."
Katie_keys also has a food rec: "Malasadas: these donuts were originally Portuguese in origin and are now filled with delicious island things like coconut cream, or passionfruit, or even come in dough made with taro. After the first time I went to Hawaii I dreamed about them. The second time I went back I ate myself sick on them. (Worth it.)"
"Leonard's malasadas are required eating," says the_jung_pope. "There is a bakery in the city and a Leonard's malasada truck near the old K-Mart in Waikele off H-1. The local food is great, so stay away from the chains and try something small. The Side Street Inn is the place where local chefs eat, or so I was told. Roy's is fantastic, but very pricey, and is located in town and also out west by Kapolei in Ko Olina."
Bubblehead has a lot of food recs: "Eat at Kua Ainia! Make sure it's the one in Haleiwa, the one at Ward sucks. Better yet, eat everything! The food is what I miss the most. Young's Fish Market has the best crispy pork and is across the street from Palama Korean market. They have the best Kimchee on the planet! Go to Chun Wa Kam and try everything! Their pork hash is Ono!"
Speaking of food, several readers recommend the local poké, which will ruin the continental imitations for you.
"Kokohead Cafe (not actually at Kokohead) has great brunch, but is a little far and can get crowded," says ROCNation.
Several readers call out ABC Stores, a popular Hawaiian chain of convenience stores. Corndog recommends the grocery store Foodland.
Corndog also describes how the architecture evokes the island's history: "Downtown Honolulu, adorned with fantastic brutalist and modernist architecture, offers the supremely unique opportunity to experience the energy of a world capitol in the middle of the vast Pacific Ocean. Not long ago, this was a sovereign nation which communicated and traded with other monarchies across the globe. Visit the Palace and walk the grounds of the State Capitol."
OahuPro also recommends an architecture appreciation walk. "It can be unpleasantly warm during the day, so park at a cheap municipal parking lot, grab the last self-guided audio tour time of 3:45 pm at Iolani palace, and then wander downtown and Chinatown as the Sun begins its descent and the city cools down. Then pick from more than three dozen excellent restaurants all within half a mile ranging from Lebanese, Chinese, Japanese, Ethiopian, American Fusion, Irish, so on and so forth. Honolulu's Chinatown is more of a cosmopolitan mix of world cultures, which reflects its history as less of a Chinese centric area and more of an entry point for various immigrant groups through the centuries."
"Tour the Kamaka Ukulele factory," says Mini Mid-life Crisis.
"Plan for sand," says Slacklinejoe. "If you are bringing an actual camera and not just a cell phone, keep a ziplock or other bag that can keep blowing sand out. I was shooting into the wind and my camera barrel picked up so much sand it actually jammed open. It took a lot of careful work back at the rental to disassemble and clean it out." And don't sit under coconut trees. "That random THUMP you hear occasionally is one letting go."
To avoid crowds, "plan your island-hopping when cruise ships are NOT in port," says allytunes.
Small bus warning from Patita Means: "You can't take the bus from the airport if you have luggage. If you can fit the carry-on on your lap, some bus drivers might let you on, but I've seen more of them that will not. If your carry-on has wheels, or your backpack has a rack, forget it."
Xerxes910 recommends several good activities for big families, and adds, "If you are going to be in Oahu for more than a couple days it is worth purchasing the Go Oahu card. It will make your tourist trap visits so much cheaper. We purchased it for the Polynesian Cultural Center + Lua and then you can use it for the Kualoa Ranch tours."
EdQ says you should move around. "We stayed in three locations for this trip and used public transportation all the way. One stay was near Waikiki, one beside Chinatown, one in Waikiki right now. The Chinatown location was a much better launching off point to Pearl Harbor, North Shore and Kailua. The Waikiki stays were good access to Diamond Head, Makapu Lighthouse Trail, Hanauma Bay and the shopping."
To the west of the city is Pearl Harbor, but the_jung_pope warns: "Pearl Harbor was harder to get into than I thought. You have to make reservations unless you get there really early."
At Pearl Harbor, visit the wildlife preserve, says Slacklinejoe.
"My friend and I also did whale watching tours with Wild Side Specialty Tours," says PalestinianChicken, "where we got to see a couple of humpbacks and swam with a pod of dolphins. Pick your tour company carefully: Wild Side seemed to respect the animals and their habits, cutting the engine and dropping us into the water so we could swim 'with' the dolphins; the other tour boat out as the same time as us motored right up to the dolphins, having its visitors swim 'at' dolphins, which is said to be very aggressive and stressful for the animals."
"If you are not a great ocean swimmer," says loveshaq, "do not go out anyplace with waves. If you want to learn to surf, take a lesson but don't paddle out to a place with a bunch of locals and try to catch every wave. It will not end well."
Swsl has tons of tips, including this: "Go to the beautiful park at the Diamond Head end of Waikiki by the Zoo and hang out under HUGE Banyon trees, doing yoga and taking naps by the sea. Check out the big kiosk by the park and see if there's public music happening."
86 the Pool Boy defends Honolulu against some haters: "If you're a tourist, embrace it. Can't tell you how many times I've heard tourists talk about avoiding the tourist traps or make a recommendation to go to North Shore. The North Shore is the biggest fucking tourist trap out there. A lot of locals love going to Waikiki and mingling with tourists (though they won't publicly admit it). People that skip Waikiki are actually missing the chance to meet local people and that usually is the key to having a badass vacation." 86 calls out Don Quijote, "the coolest grocery/discount store I've ever been to."
"Watch the fireworks at the Hilton Hawaiian Village," says Mike D. "They go off at 7:45 every Friday, I believe, and are free to the public."
"Honolulu Chinatown is underrated," says whirlaway. "Great restaurants, cool vintage shops, and an actual gritty city vibe."
The Rest of Hawaii
That's it for this week! Leave your own Hawaii tips below, or go read the rest of the best tips on the original post. Come back Monday when we head back across the International Date Line onto the Chinese mainland.
Source Link:- https://lifehacker.com/the-best-honolulu-and-hawaii-travel-tips-from-our-reade-1826274726