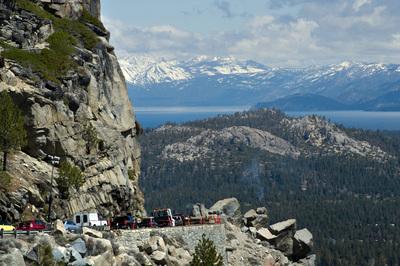 LAKE TAHOE — In addition to typical peak-season traffic, there are multiple construction projects going on throughout the region this summer. That means you'll need to explore alternate routes and modes of transportation to keep Tahoe blue and avoid the traffic slog. Here are a dozen options.
Getting there
Consider a shuttle or train. The North Lake Tahoe Express operates daily between the Reno-Tahoe Airport, North Lake Tahoe and Truckee. They're located at baggage claim between doors A and B. Check here for routes, schedules and reservations.
South Tahoe Airporter operates seven daily shuttles from Reno/Tahoe Airport to South Lake Tahoe landmarks, like Edgewood Tahoe and the Hard Rock Hotel & Casino. Reservations required. See schedules, fare and routes here. The AMTRAK California Zephyr runs daily between Reno, Sacramento and Emeryville. Book a ticket.
Flying or driving? Direct flights to the Reno-Tahoe International Airport are available from San Jose, San Francisco and Oakland. If you're willing to shell out the bucks, private weekend air travel is even possible with Blackbird, which offers seaplane air service from Sausalito to the surface of Lake Tahoe, near Tahoe City, for $425 each way in July.
Thought of taking a budget-friendly bus? Tahoe Convoy, which travels eastbound from the Bay Area Friday nights and returns westbound Sunday nights, is currently on hold. But Greyhound also operates San Francisco to and from Truckee.
Getting around
Hop on a bike. The Lake Tahoe Bicycle Coalition provides an interactive map detailing the best bike paths around the lake. Lime, the electric scooter and bike share program for the South Shore, and Zagster, in the North Shore, allow riders to hop on a bike via mobile apps.
Pedal, paddle or hike using The North Lake Tahoe Ale Trail's interactive map, which connects North Lake Tahoe's bars and restaurants with various modes of transportation. While on the North Shore, try a shuttle through TART (Tahoe Area Regional Transit) or the Nifty 50 Trolley and Emerald Bay Shuttle along Route 30 for $4. On the South Shore, try BlueGo's South Shore Bus Service along routes 50 and 53.
For regional updates on and travel information, visit CalTrans, NDOT, or LinkingTahoe.
Source Link:- https://www.mercurynews.com/2018/07/21/travel-tips-how-to-get-to-and-around-lake-tahoe-this-summer/