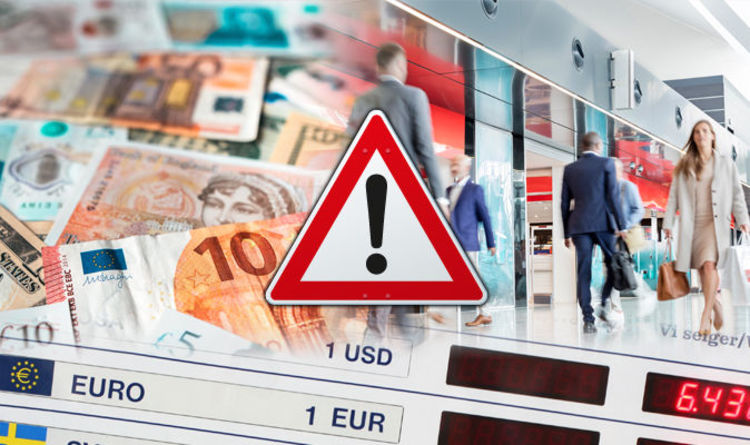 Airport exchange rates, whilst notoriously offering worse rates than the high street, have reached shocking lows.
Travel money expert FairFX has found that some airports are offering average rates 13 per cent lower than the market rates.
Holidaymakers who are making the most of the long weekend are being advised to plan ahead.
Some airports are offering just 90 cents to the pound in the startling figures.
Which airport is the worst offender?
According to FairFX, Stansted Airport was offering the 90 cent exchange rate, meaning travellers attempting to buy £500, would lose £103.13 compared to the market rate.
The euro walk-up rate is over 20 per cent worse than the market rate, meaning passengers are missing out on a huge sum.
Other worse offenders include Southampton and Cardiff, offering just 91 cents, Southend Airport offering 92 cents and London City and Leeds offering just 94 cents.
The dollar doesn't fare much better; Stansted and Southampton passengers could lose over £100 again when exchanging similar amounts thanks to the weak walk-up rates.
It comes as a stark warning to make sure to check the selling rate or risk missing out on hundreds of money when going abroad.
Ian Strafford-Taylor, CEO of FairFX, commented: "It's no secret that airport exchange rates don't offer the best value for holidaymakers as they end up paying a hefty price for 'convenience'.
"However, we're seeing rates offered by airport providers reach shocking new lows with one of the highest margins we have seen since we began investigating the matter.
"Travel money can often be left until the last minute and falls off the priority holiday checklist, but as we've found time and time again in our research, leaving it until you get to the airport could end up costing you. Planning in advance whenever possible will pay substantially.
"You can set up alerts to buy your holiday money when rates are in your favour, or lock-in exchange rates by using a prepaid currency card.
"Whatever you do, don't leave it until the last minute."
What can passengers do to avoid being caught out by bad exchange rates?
Following the exchange rate can help, with yesterdays figures available here.
Otherwise locking in the rate can ensure it is the best rates, with prepaid cards are a great way to do so.
When topping up, making sure it is at a strong time and it will then ensure that the rate stays the same on the card.
Otherwise sometimes it is worth avoiding cash altogether and using cards abroad that offer no fees for spending or cash withdrawals.
Source Link:- https://www.express.co.uk/travel/articles/955576/airport-exchange-rate-pound-euro-travel-money