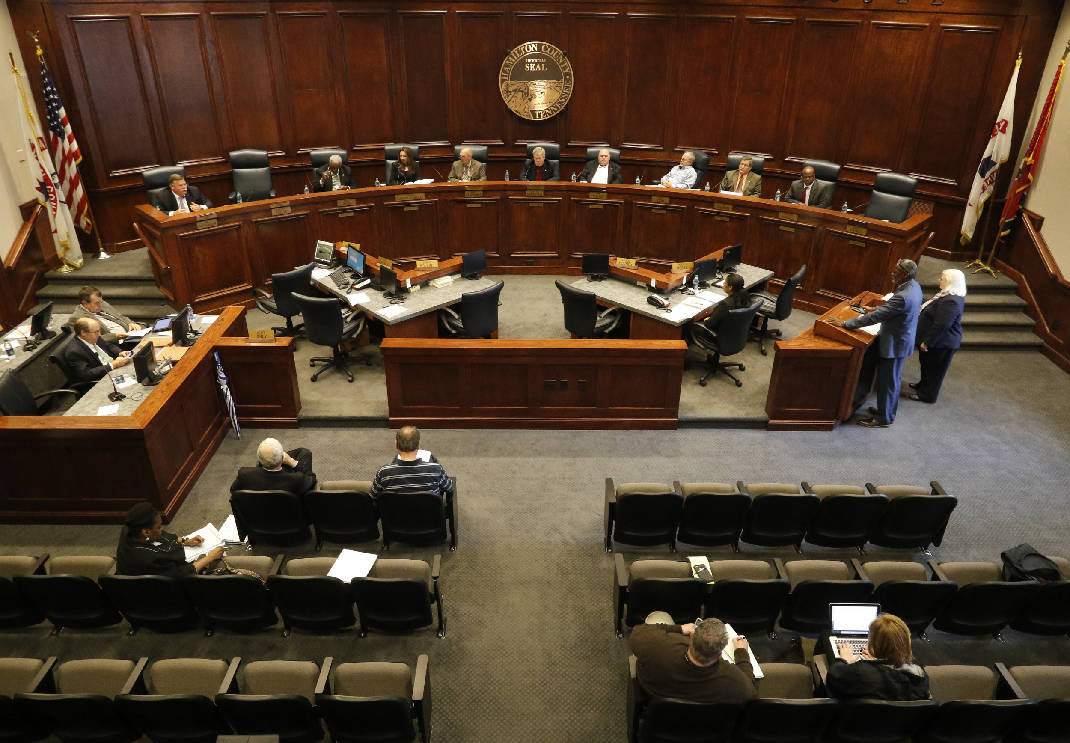 Hamilton County commissioners are squabbling over a plan to double their travel allowance, from $12,500 a year to $25,000, in the fiscal 2019 budget.
Opponents call the increase proposed by Chairman Randy Fairbanks a sneaky way of getting back discretionary money to spend at will in their districts. 
Supporters don't deny that, but say the money goes for good causes and the disgruntled opposition should just "shut up."
County records show most most commissioners don't even come close to spending what they're getting now for travel and office expenses. The travel money is on top of their commission salaries. The base salary is $23,128 a year, with a $2,500 bump for the vice chairman and $5,000 for the chairman.
Unlike other budget lines, unspent travel money doesn't go back to the general fund at the end of the year. It rolls over and commissioners can spend it at their discretion in the following year.
Records show several commissioners are spending far more on school sports equipment, fire department and civic groups than their own travel and office expenses.
Two commissioners are publicly objecting to the travel increase in Fairbanks' budget proposal to the county finance office. 
Joe Graham sent a letter to Fairbanks and Mayor Jim Coppinger saying the increase isn't needed and asking that it be withdrawn.
Greg Martin said the same in a statement and added, "I believe it is just a back door way to restore discretionary spending."
He was referring to the practice of giving commissioners $100,000 a year to spend in their districts, which Coppinger ended in 2017.
Coppinger said he has received the request and it will be part of his general fund budget presentation on Tuesday.
Fairbanks is out of town on vacation. Commission Vice Chairman Sabrena Smedley said Friday that although she didn't want to see discretionary money come back under that name, she favors having funds to help good causes in her district.
"It's all taxpayer money. If it's not used on reimbursing our expenses every month [and] if you give it on a just cause you could call it discretionary money." Smedley said. "To me it's all taxpayer money and we should be very thoughtful whatever we spend it. We can't be out there like we've got a free checkbook."
Commissioner Warren Mackey took a slap at Graham and Martin over what he called "showboating" and added, "I just wish they would shut up."
"We've had commissioners for 20, 30 years who thought the discretionary money was a good thing. All of a sudden you have a couple of people who love headlines and they'll get those headlines at the expense of evertyhing, at the expense of the reputation of the commission."
Discretionary money does a lot of good in the districts and he supports doubling the travel budget, he said. 
"Nothing we've done is illegal, there is transparency. When you have constituents who have real needs and you have the means of legally meeting those needs, such as with discretionary money, then why not support initiatives that are going to help subsidize others who are going to move the ball down the field?"
See complete story in Saturday's Times Free Press.
Source Link:- http://www.timesfreepress.com/news/breakingnews/story/2018/may/11/commissioners-tussle-over-travel/470585/