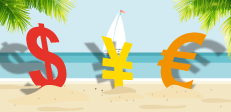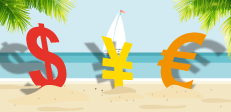 Holidaymakers could be overpaying by more than £20 per €100 when exchanging their travel money the wrong way this summer, MoneySavingExpert analysis reveals.
If you're lucky enough to be heading away, it pays to understand the different ways of getting overseas travel cash. From using a top overseas travel card, ordering cash in advance or exchanging pounds at the airport, our analysis shows getting foreign cash the wrong way could slash over 20% off your holiday budget – so we show you how to get the most bang for your buck.
For more tips to avoid being ripped off when exchanging cash, see our guide on 19 cheapest ways to get travel money.

Get Our Free Money Tips Email!
What does our analysis show?
While spending on a top overseas travel card is the easiest and, in most cases, the cheapest way of spending abroad, we know many of you like to have some cash in your wallet, so we've compared the cost of getting €100 and €1,000 in cash in different ways. For the cards below, we've assumed one cash withdrawal while abroad for €100 and five withdrawals for €1,000 – using an ATM that doesn't charge a fee. 
Of course, there are no guarantees you'll get the same rates as they change every day, but the general principle of which method is cheaper is unlikely to change.
Note: The Halifax Clarity credit card and Starling Bank debit card were our top pick overseas cards, while Revolut was our prepaid pick, but it caps fee-free withdrawals to £200/month. First Direct was the 'bog-standard' debit card (typical 2% fee), Santander 123 was card from hell (2.75% transaction fee plus cash fee of 1.5% unless using a Santander ATM in Spain), while we used our TravelMoneyMax tool for the best rates on cash before travel.
The cheapest ways to get travel cash
Using a top overseas card to get cash out of an overseas ATM that doesn't charge fees is the cheapest way of getting currency, while using our TravelMoneyMax comparison tool is a decent option if you're someone who likes to have euros in their wallet before jetting off as it compares rates from 30+ bureaux, for delivery or collection.
As we've always said, the most expensive way of getting travel money is by exchanging cash at the airport without pre-ordering – in our example you'd be over £20 down when exchanging just €100 and an eye-watering £140 worse off when exchanging €1,000 – so avoid the airport rip-offs.
While we focused on getting euros, if you're heading anywhere else and want cash, the general rule will still apply.
Important: Always withdraw cash in the local currency and use an ATM with no fee
No matter how good your card is, choose the wrong option at the ATM and it can prove costly – so always opt for the local currency when withdrawing currency or making a transaction on your card abroad. Using the retailer's own exchange rate or letting the local bank do the conversion for you is likely to give you a lot worse rate than offered by your bank, even if you don't have a top overseas card.
While it may sound simple, we've seen examples of overseas ATM providers using wording which is often confusing – seemingly hoping you'll accept the poor exchange rate, so make sure you carefully read the options on screen.
In the picture below (taken in Spain on 9 July 2018), if you'd chosen to accept the ATM's own exchange rate for withdrawing €70, you'd be £6.53 worse off than if you opted to let a top overseas debit card do the transaction for you – even after taking into account the ATM's transaction fee.
For why you should always pay in euros, not pounds, see Martin's Using plastic overseas? blog.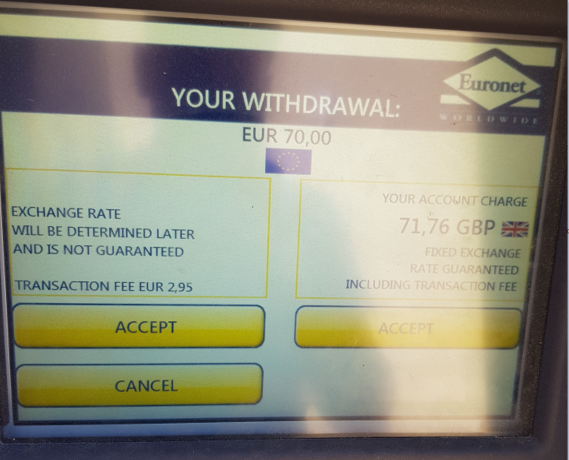 Aside from withdrawing in the local currency, it's also worth looking for overseas cash machines that don't charge a fee. While these aren't always easy to avoid, fee-free ATMs are more likely to be found when connected to physical bank branches, rather than located next to key tourist attractions or in smaller resorts.
For more tips to get the most bang for your bucks (or euros), see our guide on 19 cheapest ways to get travel money.
Source Link:- https://www.moneysavingexpert.com/news/travel/2018/07/revealed-foreign-currency-could-cost-you-over-twenty-percent-more-if-you-get-it-the-wrong-way-