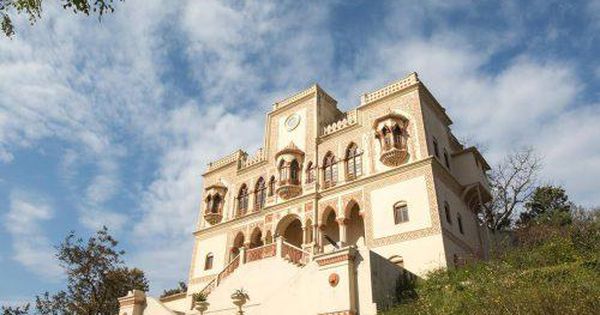 With summer just 49 days away, it's crunch time to start planning your travel itinerary. Destinations like Mykonos, the Amalfi Coast, and Ibiza have championed the summer hotspot list, but for those looking for something new, satisfy your wanderlust with an off-the beaten-path experience. We enlisted jetsetters Shiona Turini, Max Samis, and Alyssa Coscarelli to spill their favorite travel destinations for summer, from a spa tucked away in the Himalayas to a poolside Hawaiian retreat.
Shiona Turini, Style Consultant
Destination: Himalayan Mountains, India 
Hotel: Ananda Spa
"On a month-long excursion in India I called Eat, Pray, Lewks; I trekked to the foothills of the Himalayan mountains for a once in a lifetime wellness retreat. Although I had never meditated before and rarely practice yoga, I wanted to experience these practices at the true birthplace of both and experienced a type of peacefulness and focus that I've never had. Not only that, I got to live out my stay in a chic white traditional tunic co-ord."
Pro-tip: "The team at Ananda have a uniquely direct way of approaching health and wellness. I spent almost two weeks exercising my mind and treating my body well. Specializing in traditional Ayurveda, Yoga and Vedanta, I quickly realized that I was not only detoxing my body but completely reseting my mind and ways of thinking. The spa's guided spiritual rehabilitation from my previous hectic lifestyle not only included full-body scrubs and massages but also a personalized roadmap through the best foods for me. Meditation and daily walks on the breathtaking grounds brought me back to center, the hikes through the Himalayas kept me active …and thanks to their Ayurvedic cooking classes – I can now make vegetable broth from scratch."
Max Samis, Founder, Mister Spoils
Destination: Tokyo, Japan
Hotel: Park Hyatt Tokyo
"I visited Tokyo earlier this year on the tail end of a ski trip and left feeling energized and inspired but as though I'd barely seen a fraction of the city after four days. There's so much to do, so much to eat, and so many ways to overwhelm your senses. Showing up at 2am to the wrong karaoke bar and walking in on four mid-50-something Japanese dentists decked out in full rockstar attire, absolutely slaying a cover of Pink Floyd's Shine On You Crazy Diamond is something I'll never forget.
Pro-tip: "Most good things are down a flight of stairs. Take the train. Order a gin and tonic at the Trunk Hotel. Try the fried chicken from Lawson's and a warm can of Fire from any vending machine. Skip the robot show and head to karaoke instead. Head out on a solo sushi mission in Shinjuku and sit at the bar."
Alyssa Coscarelli, Senior Fashion Market Editor, Refinery29
Destination: Honolulu, Hawaii
Hotel: The Laylow
"Paradise is real, folks, and Hawaii is it.  I've only been once as a pre-teen, so I'm so excited to return to this dream destination this summer, over 10 years later. I remember driving the Road to Hana with my family, and all the magic around every corner of Hawaii from beautiful waterfalls to amazing private beaches, and I can't wait to see what's in store to be discovered on my upcoming trip"
Pro-tip: "Supergoop Unseen Sunscreen is an every-day rule for me anyway, but that rule will stand especially true on this vacay. It goes on like nothing. I've already gotten one unwanted sunburn this Spring (not fun!), so trying to avoid that at all costs."
Source Link:- https://www.forbes.com/sites/oliviaperez/2018/05/03/three-jetsetters-on-their-favorite-travel-destinations-for-summer-2018/