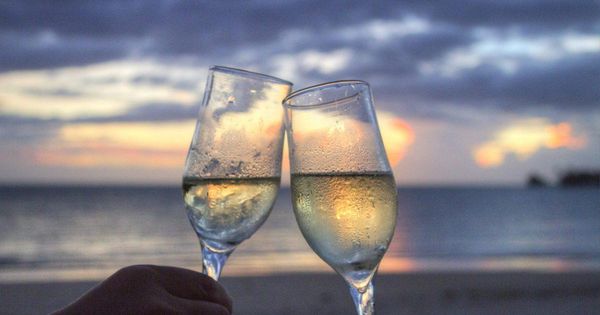 Stoke your oenophilia and wanderlust with these ten stunning travel destinations you'll never want to leave:
1. Douro Valley, Portugal
Located a few hundred miles from the city of Porto, this scenic UNESCO World Heritage site boasts of idyllic 18th and 19th-century Quintas (wine estates) and stone-terraced vineyards that rise above the meandering Douro River. Romans introduced vines to the Duoro Valley back in the third century A.D after the conquest of the Iberian peninsula. Other than the world-famous Port, Duoro Valley is also known for producing the popular Vinho Verde white wine. In addition, some smaller Quintas also serve lesser-known table wines made from indigenous grape varieties like Alfrocheiro. Visitors can go for guided tours and tasting at historic wineries like Quinta da Pacheca, Quinta de La Rosa and Quinta das Carvalhas. You can also sip some of the finest Portuguese pours at Quinta de Guimaraes, Quinta do Bomfim and Quinta do Crasto. Alternatively, visitors can hop on a wine cruise to explore the stunning region on water. Best time to visit: Late September or early October.
2. Franschhoek, South Africa
Nestled amidst the towering mountains in the heart of Cape Winelands, Franschhoek is a dream destination for wine connoisseurs. Founded by French Huguenots in 1688, the picturesque village is draped with vineyards where you can enjoy a range of exquisite wines (think full-bodied reds like Pinot Noir and Shiraz and whites like Chardonnay and Semillon). Notable vineyards include Chamonix, Allée Bleue, La Motte and Solms-Delta. You can also take one of the popular food and wine tours that cover everything from grape picking and wine tasting to chocolate making and olive tasting. Best time to visit: September to February.
3. Saint-Émilion, Bordeaux, France
Known for its deep-colored and full-bodied red wines, Saint Émilion is one the most historic wine towns in the Bordeaux region. Its major tourist attractions include Les Cordeliers – a rustic winery that stands amidst the ruins of a 14th-century Franciscan monastery. Les Cordeliers has been producing sparkling Crémant de Bordeaux wine in its ancient cellars for more than a century. Other must-visit wineries include the remarkable Château Coutet and Château Troplong Mondot. You can also learn about the basics of wine tasting at the Maison du Vin of Saint-Emilion Wine School. The sessions take place daily from mid-July to end of August and on Saturdays from April to November. Best time to visit: April and May. 
4. Valle de Guadalupe, Mexico
Mexico's booming wine region deserves to be on every vino lover's bucket list. The most common wines produced here include reds like Cabernet Sauvignon, Merlot, Barbera and Zinfandel and whites such as Colombard and Chardonnay. Must-visit winemakers include Decantos Vinícola, Monte Xanic, Viña de Frannes, Casta de Vinos and Vena Cava – a rad winery made from recycled boats. If you get tired of sipping blends, head over to Finca La Carrodilla – the organic winery offers four mono-varietal wines (Chenin Blanc, Shiraz, Cabernet and Tempranillo). For some great cheese and wine pairings, check out La Cava de Marcelo. The only cheese cellar of Mexico lets visitors try exotic cheeses of Baja with a glass of locally produced wine. Best time to visit: Late August or early September. You'll be just in time for the Fiesta de la Vendimia (The Annual Harvest Festival). Festivities include the traditional blessing of the grapes, wine tastings, dancing, live music and much more.
5. Barossa Valley, Australia
The splendid vineyards of Barossa Valley are famous for producing some of Australia's finest Rieslings and bold Shiraz wines. You can enjoy a game of croquet followed by wine tasting in the grand barrel room of Château Tanunda. Or, you can sip Mediterranean varietals like Montepulciano, Sangiovese and Tempranillo at the rustic Pindarie Wine. Other notable wineries include Thorne-Clarke, Grant Burge and Seppetsfield (you can even taste wine from your birth year here).  For more artistic wine enthusiasts, Penfold's winemaking lab offers visitors a chance to blend their own vintage using Grenache, Shiraz and Mataro. Bonus, you get to take your creation home! Best time to visit: February and March.
6. Piedmont, Italy
Piedmont is one of the three classic wine regions of Italy. Its magnificent vineyards produce two of the world's finest red wines – Barolo and Barbaresco. Winemakers to visit include Azienda Agricola Taliano Michele, Paolo Manzone, Cantina Mascarello Bartolo and Cantina del Glicine (do try their award-winning Barbaresco and intense Nebbiolo vintages). Those traveling with their families might want to check out Isolobella Della Croce. Visitors can enjoy lunch picnics at the estate's winery and sample cheeses and cold cuts. Best time to visit: April to mid-July or late August to October.
7. Napa Valley, California, U.S
If you're a novice wine buff then Napa's the place to go. Many wineries like Alpha Omega, O'Brien Estate Winery, Black Stallion and Chateau Montelena offer numerous tasting and tour experiences to walk you through the process of winemaking and flavor profiling. The Cairdean Estate in St. Helena is also highly recommended for its contemporary tasting room that offers more than 20 different wines. Cabernet Sauvignon enthusiasts should check out vineyards like Silver Oak, Corison and Inglenook. Visitors can also explore the wine region by boarding the Napa Valley Wine Train or go for a winery to winery guided bike tour through Napa's best. Best time to visit: Late August to October.
8. Hawke's Bay, New Zealand
Home to over 100 vineyards and 80 wineries, Hawke's Bay is the second-largest wine region in New Zealand. It's vineyard-draped valleys are known for producing reds like Cabernet Sauvignon, Merlot and Syrah along with some exceptional whites. Must-visit wineries include the award-winning Craggy Range (do try their Gimblett Gravels Syrah), Black Barn, Elephant Hill, Trinity Hill and Mission Estate – the oldest winery in the country. Best time to visit: Harvest season in late May.
9. Moselle Valley, Germany
Majestic castles, rolling hills and a placid river – Moselle Valley's scenic beauty alone is enough to intoxicate anyone. Add some delicious wine to the mix and the result is pure magic. The Moselle region produces some of the best Rieslings in the world. For excellent pours and picture-perfect surroundings visit Weingut Willi Schaefer, Weingut Van Volxen and Weingut Clemens Busch. Weingut Vollenweider is also highly recommended because of their dry and sweet Rieslings. Hikers would love Calmont-Klettersteig – the steepest vineyards in Europe. Oenophiles should also hit up Mosel Weinmuseum to learn more about the history of wine and vineyards in the Moselle region. Plus, you get to sample 160 different kinds of wine! Best time to visit: July to August or September to October.
10. La Rioja, Spain
Dotted with castles, cathedrals and quaint wine towns producing a variety of full-bodied reds, La Rioja is every vino lover's paradise. Ancient Romans introduced wine to the Spanish region. The tradition of winemaking has been intrinsically woven into the cultural fabric of La Rioja ever since. You can sip exquisite wines at traditional vineyards like Bodegas Muga and Bodegas López de Heredia or visit more Avante Garde ones like Bodegas Marques de Riscal and Bodega Ysios. Also, it would be remiss to not visit Vivanco Museum of Wine Culture in Briones, South of Haro. The renowned museum covers everything from the history of making and serving wine to flavor profiling. Best time to visit: Fall harvest season in late September. Or, you could visit in late June to experience the wine-splashing madness of the Batalla del Vino during the Haro Wine festival.
Now pack your bags, it's time to sample some vintages!
Source Link:- https://www.forbes.com/sites/nomanazish/2018/04/24/10-beautiful-travel-destinations-for-wine-lovers/