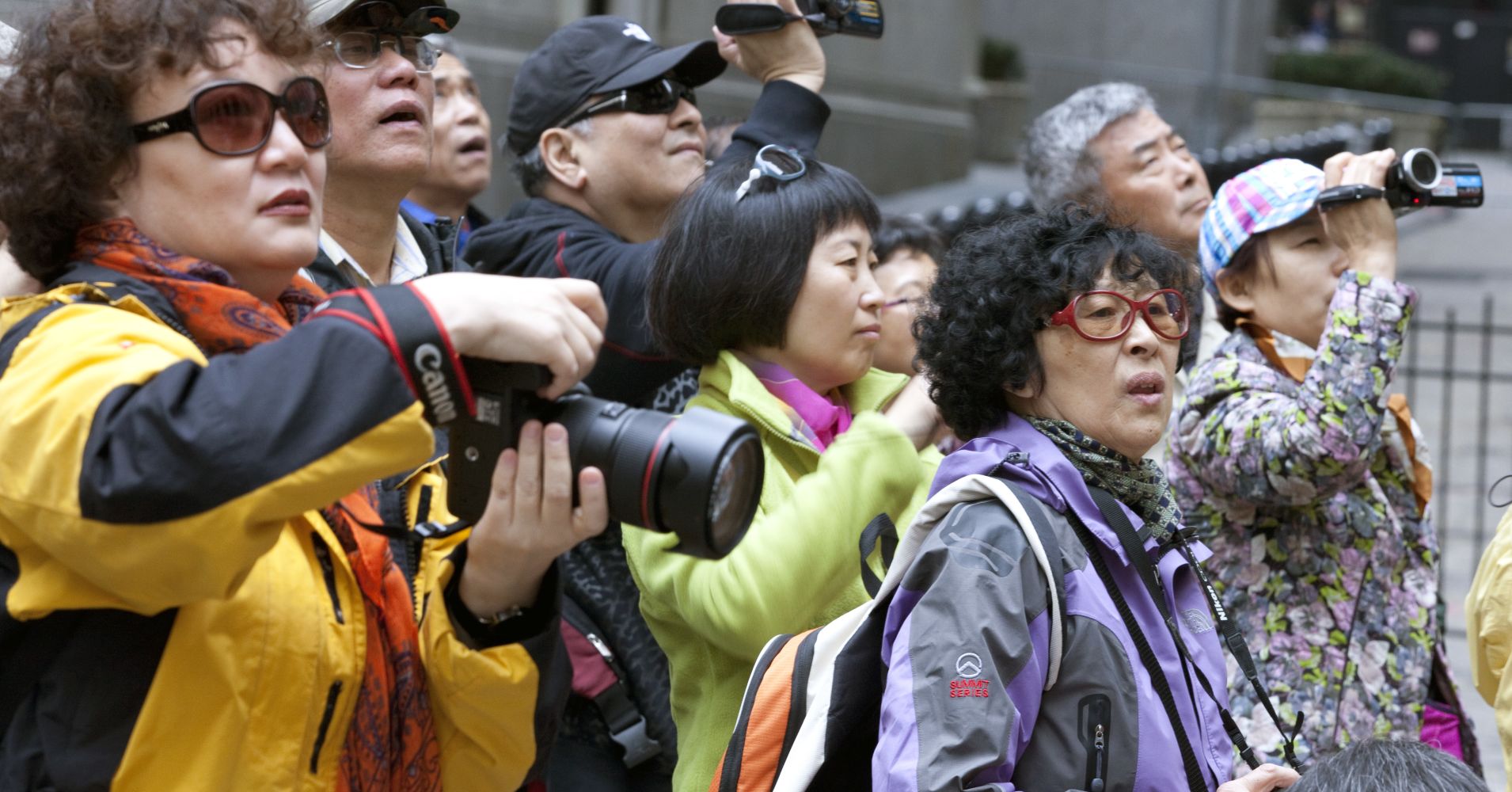 China claims its citizens are "reluctant to visit" the United States given the escalating trade tussle and safety concerns, even as tourism agencies in the U.S. say they see no current evidence of a slowdown.
China's state-controlled Global Times tabloid reported on Wednesday that "interest in traveling to the U.S. has withered as peak vacation season approaches."
It's the latest salvo in the growing tensions between the two nations. Tourism is a rich vein that China can tap to hurt the U.S. economy. Chinese tourists rank as top foreign spenders in the United States and summer is traditionally one of the peak times of year for tourists traveling from mainland China and Hong Kong to California and other U.S. locations.
The Global Times article cited data from Mafengwo, a local trip-planning site, that showed searches down in the first six months of 2018 for major American travel destinations such as Los Angeles, New York, San Francisco and Las Vegas.
The paper said the data from Mafengwo also showed increased interest in travel to Russia and some European countries, including France. It said the switch to other destinations "could hurt" key sectors of the U.S. economy that rely on tourism.
The report comes on the heels of China's embassy in Washington late last month issuing a security advisory to its citizens about potential dangers traveling in the U.S., including to be alert to "suspicious individuals, and avoid going out alone at night."
"I would expect that the Chinese would play up the angle of the trade war costing the U.S. in terms of tourism because they want to amplify the impact," said Martin Chorzempa, a fellow at the Peterson Institute for International Economics, a nonpartisan think tank based in Washington, D.C.
"If people in the tourism industry see these things, the Chinese might hope that they put pressure on the U.S. administration to roll back some of these [tariff] measures because of the costs they would impose on the U.S.," he added.
Chorzempa said he doesn't expect the travel advisory to have very much impact on Chinese tourism numbers. He believes the bigger impact will be Beijing's "pushing of a patriotic line 'not to go to the U.S."
Earlier this week, the paper ran a story headlined: "China should make tourism, services the main battlefield in trade frictions with U.S.
A downturn in Chinese tourism could certainly cause pain. Overall, nearly 3 million Chinese tourists visit the U.S. annually and spending has topped $30 billion in recent years, according to figures from the National Travel and Tourism Office, part of the U.S. Department of Commerce's International Trade Administration agency.
ITA declined comment for this story. The White House didn't respond to a request for comment.
Still, U.S. travel officials insist they are not seeing any slowdown in Chinese tourism just yet.
"There are constant questions about whether a news moment has resulted in a dip in travel, but data trends simply do not happen in real time," said Jonathan Grella, an executive vice president of the U.S. Travel Association. "So there is no econometric evidence yet that travel from China to the U.S. has flattened or decreased."
Laurie Armstrong Gossy, a spokesperson for San Francisco Travel, said China is the city's "number one market in visitor spending" and added that the latest statistics "don't reflect any impact [from the trade spat]. We may know more at the end of the summer."
"It is to early to determine what kind of impact this may have, and we will continue to aggressively market Las Vegas as the greatest travel destination around the world," said Amanda Peters, a spokesperson for the Las Vegas Convention and Visitors Authority.
Stephen Lawson, a spokesman for Visit Florida, said there were nearly 300,000 Chinese travelers last year that visited the Sunshine State. "China is a very important market for Florida's tourism industry. We are confident that our world-class shopping, theme parks and sightseeing will continue to draw more and more Chinese visitors to Florida."
Even so, escalating tensions could have an impact. Chorzempa said there are cases in China of at least one hotel putting what it calls a "tariff" on American visitors as part of the retaliation against the trade tussle. "We can expect that kind of nationalist sentiment to rise as the trade war ramps up," he said.
There's a history of the Chinese using tourism as an economic weapon to punish other countries.
Last year, South Korea's tourism industry was on the receiving end of the wrath of Beijing's anger over installing the U.S.-built THAAD anti-missile defense system. Beijing launched a South Korean tourism boycott that led to a halt of packaged tours and reportedly cost the economy nearly $7 billion before it ended in late 2017.
Source Link:- https://www.cnbc.com/2018/07/12/china-claims-its-citizens-reluctant-for-us-travel-given-trade-war.html