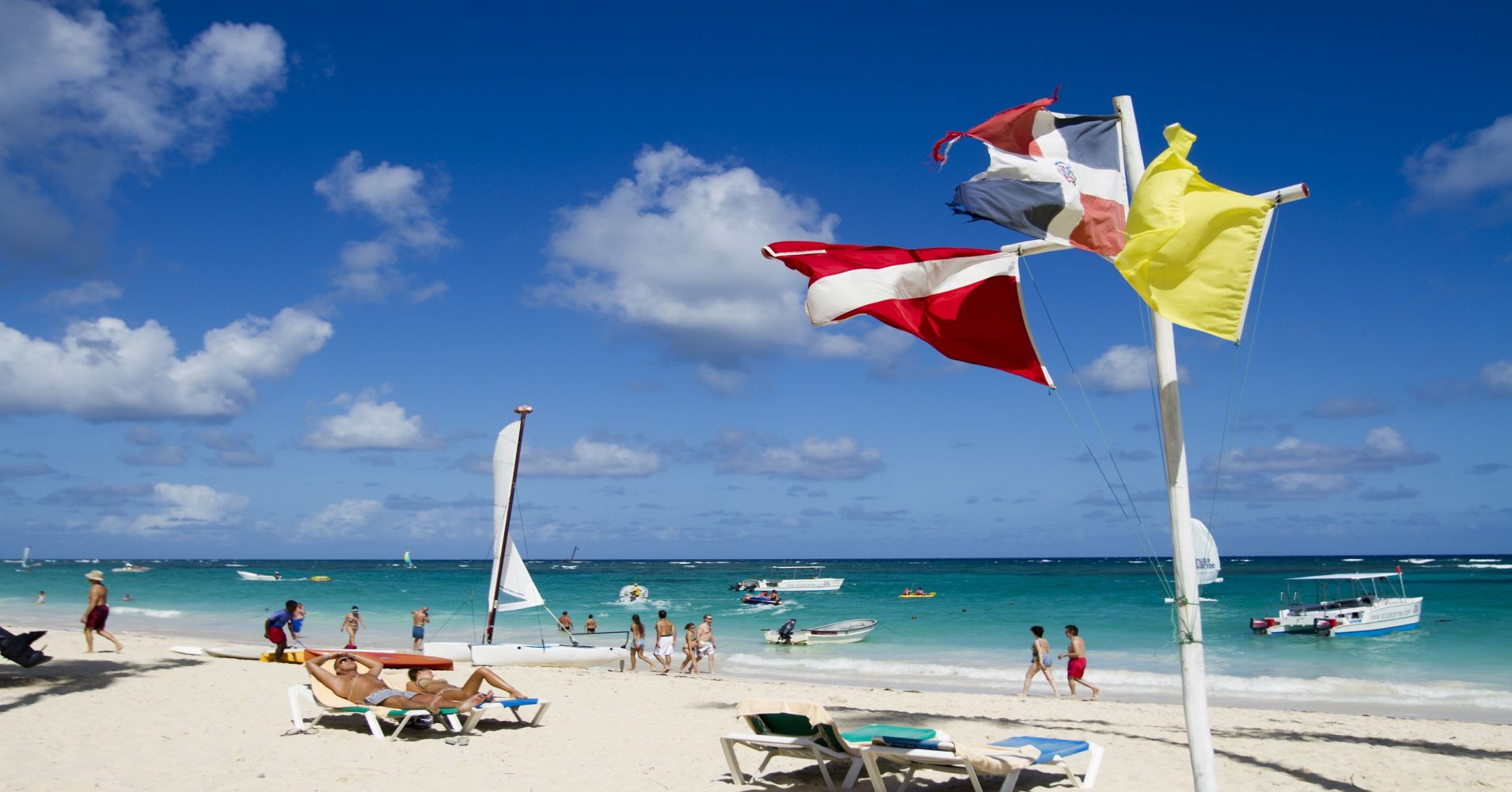 With white-sand beaches and crystal clear waters, the Caribbean is a dreamy destination — so it's no surprise it has an $18 billion tourism industry. According to Caribbean Tourism Organization, 30 million visitors traveled here in 2017, the highest number on record.
Many parts of the Caribbean are cheaper to travel in summer when several islands go "off peak," compared to fall and winter high-season prices. (Though hurricane season in the area is June to late November, most storms hit during its peak, between late August and October. Last year, hurricanes Irma and Maria both occurred in September.)
From Mexico to the Bahamas, these are six of the cheapest Caribbean destinations to visit based on airfare and resort rates (from now until September), not including food and beverage, tours and activities.
Cancun
Cancun is the No. 1 summer destination for Americans this year, according to Airlines Reporting Corp (ARC).
Direct flights are almost half off (round-trip airfare is as low as $226 from New York City and from $282 from Los Angeles on Google Flights), and hotel rates are slashed this summer, as long as you don't mind temperatures in the low 90s.
Rooms at the five-star Grand Fiesta Americana Coral Beach Cancun, which has 602 all ocean-view suites, start at $211 a night. There are three swim-up bars, a spa, five restaurants and private area of the beach with cabanas. Travelers who book four nights receive the fifth night free and also receive $1,000 worth of resort credit (you have to stay before September 30, 2018, when the summer promotion ends).
Live Aqua Cancun, an all-inclusive resort, has summer double rates starting at $460 per night per room ($230 per person based on double), which includes all food and beverages. The beachfront resort has nine food and beverage stations, seven pools and a spa.
The U.S. State Department issued a travel advisory to exercise increased caution in March due to violence and crime in the state of Quintana Roo, in which Cancun is located. But that shouldn't deter travelers, CheapCaribbean's Steve Dumaine tells CNBC Make It, just be cautious, as you would on any trip.
Nevis
In a report by Hipmunk, flights to Saint Kitts and sister island Nevis were 19 percent cheaper this year (average $763 round-trip) though CNBC Make It found round-trip flights to Saint Kitts as low as $491 from New York City. (Flights here can be more expensive since there's less demand and competition compared to bigger island destinations with larger airports.) Nevis, about 36 square miles, with no street lights, roaming monkeys and pristine beaches, has cheap accommodations, and they are unique. Most hotels are transformed from centuries-old plantation homes, with fewer than 20 rooms.
Montepelier Plantation & Beach, a luxury, beachfront resort with outdoor pool, a 2017 Conde Nast Traveler Reader's Choice Awards, has rooms for $150, normally $235.
Golden Rock Inn, a seven-room resort opened by American painter Brice Marden, who has solo shows at top art museums like New York's Museum of Modern Art, is visually impressive and has rates as low as $163 a night, with breakfast included. Accommodations range from garden rooms and cottages to a suite in a century-old sugar mill.
And the weather isn't bad either: July, August and September have highs in the low 80s; the rest of the year is in the high 70s.
Curacao
Curacao, a Dutch-Caribbean island in Southern Caribbean, known for its colorful, European architecture, is budget friendly. This summer, it's even more affordable. Direct Jetblue flights from New York City are $315 (typically $600 from fall through winter).
Curacao is mostly home to independently owned boutiques, like Scuba Lodge Boutique Hotel & Ocean Suites, which has a dive center and "al fresco" restaurant. Standard rooms at the oceanfront hotel are $131 a night (typically $179 in high season). Four-star hotel rates average $200 a night. For larger chain hotels, Hilton Curacao, on its own beach, has ocean-view rooms as low as $167 per night.
Curacao has a thriving dining scene with restaurants not attached to resorts, mostly in and around downtown Willemstad, one of two Caribbean cities designated as a UNESCO World Heritage Site (the other is Bridgetown in Barbados) due to its well preserved and historical buildings. You can get meals under $12 at local restaurants like Seaside Terrace specializing in seafood and Plasa Bieu, serving Caribbean fare.
Curacao summers get hot, up to the low 90s.
Dominican Republic
While Dominican Republic has steady tourism throughout the year, summer time generally offers better deals, especially in Punta Cana and Puerto Plata, which are packed mostly with all-inclusive resorts packaged with flights to keep vacations cheap.
A four-night, all-inclusive trip from New York City (with airfare) at Sunscape Puerto Plata is $529 total per person (based on double occupancy). The resort offers 585 rooms and suites, nine restaurants, four bars/clubs, a beach and outdoor pools.
Out of the top 10 summer destinations for Americans this year, according to Airlines Reporting Corp (ARC), Punta Cana was ranked No. 4. Like Puerto Plata, Punta Cana offers mostly cheap all-inclusive packages to drive steady tourism. There are more than 50 U.S. and international airlines that service Punta Cana International Airport (12 airlines, including American, United and Jetblue, fly to San Felipe de Puerto Plata International Airport).
In Punta Cana on the eastern side of the island, Breathless Punta Cana Resort & Spa has 750 rooms, eight pools, four outdoor jacuzzis, 11 restaurants, seven nightlife venues and a stretch of white-sand beach with complimentary water activities like kayaks. Rooms at the all-inclusive resort start at $281 per person per night or four nights with air from $899 per person (which breaks down to $224 per person per night, including all food and beverage).
For a cheaper all-inclusive resort, Natura Park Beach Eco Resort & Spa, a three-star resort, has a four night with air package for $629 per person (based on double occupancy), which breaks down to $157 per person per night, or $112 per person per night (based on double occupancy) without air.
Dominican Republic is balmy in the low 80s in summer months.
Grenada
Direct flights to Grenada, dubbed as the "spice isle" (for its most famous export, like nutmeg), which start at about $212 one-way from New York City. Also, the tourism board launched a summer campaign (#NextStopGrenada) that offers up to a 50 percent discount on hotel rates, complimentary room upgrades and massages, child discounts and more.
Rates at three- to four-star hotels start as low as $89 a night and include popular resorts like Blue Horizons Garden Resort ($136 a night), known for its lush, tropical gardens. The campaign also includes discounts on activities, like diving and rainforest hikes.
Summer temperatures are in the mid 80s, and summer is also rainy season.
Grand Exuma Island, Bahamas
The Exuma islands in the Bahamas are known for crystal-clear waters, secluded beaches and famous swimming pigs.
It's also home to many celebrity-owned islands, including David Copperfield's $50 million private island, Musha Cay, which rents for $57,000 a night.
There are far more affordable options, and many great hotels are under $200 a night, like Augusta Bay Bahamas, the number one hotel on TripAdvisor's top ten value hotels in Exuma. The 16-room resort right on the beach has nightly rates of $150. A larger boutique with 32 rooms, Club Peace & Plenty, a historic hotel since 1958, has rooms as low as $168 a night.
Source Link:- https://www.cnbc.com/2018/07/02/caribbean-islands-and-beaches-that-are-cheap-for-summer-travel.html