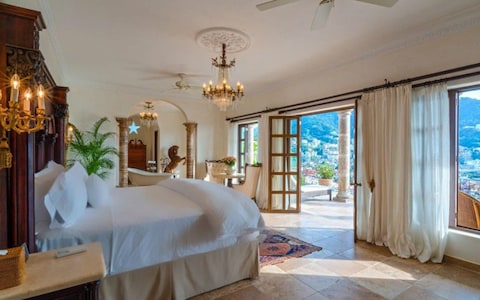 Mexico's culture draws tens of millions of visitors every year, from its colourful Day of the Dead celebrations to the national reverence for gastronomy that means there is something delicious to taste around almost every corner. As a Latin American country, it might not be the first place that the phrase "LGBT+ travel destination" makes spring to mind, and of course, the Catholic church exerts a conservative influence, but legislatively it's a different story.
Same-sex sexual activity has been legal here since 1871; same-sex marriage has been legal in Mexico City since 2010 and many states since; discrimination is outlawed.
Pride festivals are expanding across the country – so I decided to visit in June, Pride month, to see how Mexico fared as a long-haul travel destination for the LGBT+ community (that's lesbian, gay, bisexual, transgender, plus a number of groups with other orientations and identities).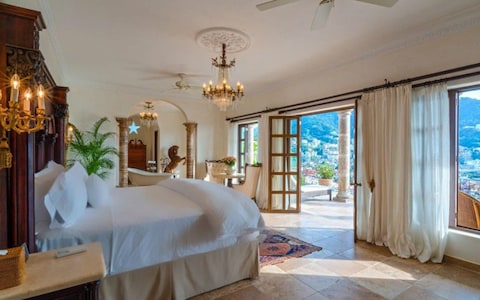 Casa Kimberly, former home of Elizabeth Taylor, who put Puerto Vallarta on the map, is now a hotel Credit: Getty
My first stop was Puerto Vallarta, put on the map by Elizabeth Taylor, who frequented it with Richard Burton in the Sixties. It now has a reputation as a gay-friendly seaside resort town. I'd been told to expect possibly the best fish tacos of my life, and spent a sensational few hours on the Mex-ology Vallarta Food Tour (£56), which gloriously combined tequila and tacos.
I discovered El Cuñado, the oldest (and best) street stand in town, and also La Palapa, a favourite dining haunt of Taylor's, where days before, the annual Pride festival had seen drag queens race up the cobbled hill in stilettos. Along from here I found Mantamar Beach Club, popular with an older, gay male crowd, and its specifically LGBT-friendly hotel Almar, which hosts same-sex weddings and pool parties for Pride at its rooftop bar.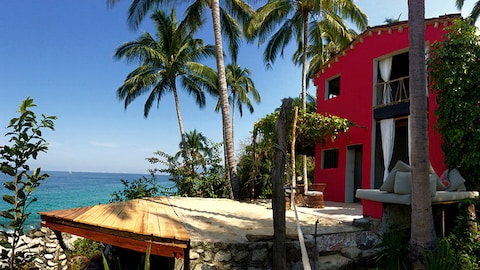 Casitas Maraika is a white-sand, palm tree paradise
By night I saw rainbow flags displayed at lots of downtown bars. I was disappointed – but not surprised – to find the scene is male-dominated; there are no specific lesbian bars, just one or two lesbian-run, such as Verona. 
For relaxation, I took a boat to Casitas Maraika hotel and beach club. This white-sand, palm tree paradise is popular with fashionable locals: settle into one of its many Instagrammable spots for guacamole so creamy you'll never want to eat an avocado in the UK again, and passion fruit margaritas, while watching the waves crash in.
Though the town has plenty of all-inclusive resorts, there are several more idiosyncratic places to stay. Taylor's former home, Casa Kimberly, is now a hotel; while a new Design Hotel, Amapa, opens in September.
A five-hour bus journey took me to Guadalajara, for a more urban, cultural vibe. I stayed at Casa Fayette, a new boutique Design Hotel that looks like something out of a Wes Anderson film, in the trendy Lafayette area. This is an architecture-lover's heaven; fusing grand colonial with glass-fronted modernism. There are lots of hip bars and restaurants – the central gay village is more mainstream and club-centred.
The night of the Pride parade, I uncovered the cool scene I'd been searching for, via social media: Prohibido, a late-night LGBT+ cultural festival, and an edgy "all-night queer warehouse party" called Por Detroit. Guadalajara Pride only started in 2014, but estimated attendance this year was 70,000. As well as the floats and corporate blocks in the parade, I noticed a strong youth presence, a refreshing reminder of the importance of these events' visibility as something other than an excuse for adults to party.
This was even more the case at the parade in Playa del Carmen, on the east coast near Cancun a week later. Speaking to organisers, I got the impression that in spite of the town's diverse population of residents and tourists, the sense of community is still a work in progress, with just a few hundred gathered at the start.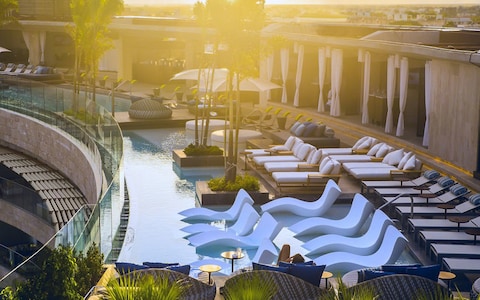 Stay at Thompson Playa del Carmen and benefit from included access to the Frida Kahlo museum, along with the hotel's flashy rooftop pool club Credit: Getty
This part of Mexico is very westernised, and strolling through central Playa, you could be in a shopping precinct in Las Palmas de Gran Canaria, where you wouldn't give public displays of same-sex affection any more thought than you would in the UK. As the parade set off in shady evening relief, numbers swelled into the thousands.
By day, Mamita's Beach Club is a popular destination on the scene, with its party atmosphere. I stayed at the Thompson and so benefited from included access to the Frida Kahlo museum (£12), along with the hotel's flashy rooftop pool club.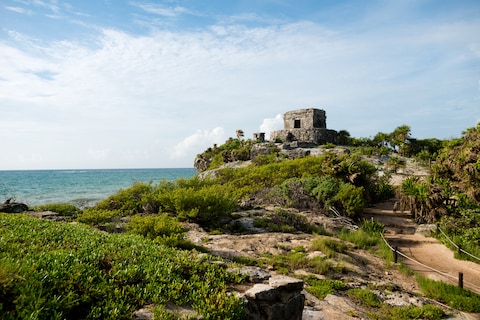 Wellness haven has history in its Mayan ruins Credit: CHRIS HOWEY
Further down the coast is the wellness haven Tulum. Its beachside strip, like an import of Los Angeles, complete with yoga, juice bars and "lifestyle boutiques", had the carefree feel of LA's Venice Beach. Chic hotels include Papaya Playa Project, Nomade and Be Tulum. I found history in the Mayan ruins, and natural beauty in the cenotes, the turquoise cave pools of the Yucatán.
Choosing a holiday destination can be fraught with difficulty for LGBT+ travellers, as experiencing a culture different to your own often means compromising on openly being yourself. Not so in Mexico, where tacos and tiaras happily coexist – and the best news is, the more LGBT+ tourists that visit, the more this will become the case. Happy Pride.
The Pride in London parade takes place today (prideinlondon.org)
Source Link:- https://www.telegraph.co.uk/travel/destinations/central-america/mexico/articles/why-mexico-great-lgbtq-travel-destination/