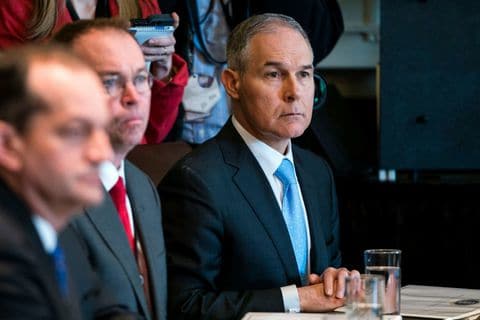 The Republican head of a congressional oversight committee Wednesday asked for more answers from the Environmental Protection Agency about Administrator Scott Pruitt's first-class travels and said the committee also plans to evaluate the $50-a-night rental Pruitt had with a lobbyist.
In a letter to Pruitt, Rep. Trey Gowdy (R-S.C.), chairman of the House Committee on Oversight and Government Reform, said that the EPA "has failed to produce all the documents" he requested in February related to Pruitt's frequent first- and business-class flights, which The Washington Post had reported about in detail days earlier.
While the agency did turn over documents last month detailing nearly $68,000 in previously undisclosed travel costs for Pruitt during the seven months leading up to February, Gowdy said EPA officials have failed to produce the security waivers that Pruitt used to justify his purchase of premium tickets at taxpayer expense. EPA officials have said that various threats against Pruitt, including verbal public confrontations, led the head of his security detail to recommend that he fly in the front cabin of planes, both to provide a "buffer" from the public and also so that he could board and exit more quickly.
In addition, Gowdy said in his letter Wednesday that he plans to examine Pruitt's unusual lease agreement for a condo on Capitol Hill last year with Vicki Hart, a health-care lobbyist. She is married to J. Steven Hart, head of Williams & Jensen, a law firm that lobbies on energy, transportation, trade, tax and other issues. The Harts have known Pruitt for years and previously supported his run for Oklahoma attorney general.
Gowdy noted that a memo last week from a top EPA lawyer "raises questions about whether ethics officials who reviewed the lease had access to all relevant information, and whether all applicable ethics rules were considered when those officials concluded the lease agreement with federal ethics regulations."
As a result, Gowdy asked the EPA to provide a slew of documents related to Pruitt's controversial rental, including documents and communications about how the lease agreement came to be and whether the EPA head's use of the condo was in line with the terms of the lease.
"We will respond to Chairman Gowdy through the proper channel," EPA spokesman Jahan Wilcox said in a statement Wednesday.
Gowdy's latest request comes just days after a top government ethics official wrote to EPA lawyers, urging the agency to address any violations linked to Pruitt's spending habits, his condo lease from a lobbyist and his personnel decisions.
In a letter released Monday, David J. Apol, acting director of the U.S. Office of Government Ethics, took the unusual step of telling EPA officials that several recent ethics questions deserve further scrutiny. "Public trust demands that all employees act in the public interest, and free from any actual or perceived conflicts," he wrote to Kevin Minoli, the EPA's principal deputy general counsel and the agency's top ethics official.
Between the EPA's inspector general and the Government Accountability Office, Pruitt faces at least five inquiries into his actions. They include audits of his travel practices and the costs of his protective detail, his purchase of a $43,000 soundproof phone booth last year and his hiring practices under authority granted by the Safe Drinking Water Act Amendment.
Read more:
Top government ethics official demands EPA probe Pruitt's ethics controversies
EPA documents question justification for Pruitt's 24/7 security detail, first-class travel
Pruitt's round-the-clock security has cost taxpayers nearly $3 million
Source Link:- https://www.washingtonpost.com/news/energy-environment/wp/2018/04/11/gop-oversight-chairman-demands-more-records-on-pruitts-travel-housing/