In 2016, as an indication of confidence in the renewed harmony between the West and Iran, three of Europe's most prestigious airlines returned to the Middle Eastern country's capital Tehran.
The resumption of direct flights by British Airways, Air France and KLM, from London, Paris and Amsterdam, followed the lifting of a number of sanctions against Iran in the wake of a groundbreaking nuclear deal spearheaded by Barack Obama.
BA said Tehran, which had not been visited by the British flag carrier after 2012, represented an "important destination" for the airline. The blurb on its website says of the city: "Tehran is a bustling metropolis with a large, friendly population. Iran is a beautiful place, and Persians are a welcoming and hospitable people, with an ancient culture and rich heritage that deserves to be explored."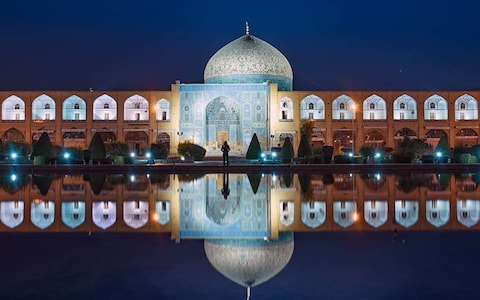 The flights did not spawn an interest in travel to the Middle Eastern country, however, but catered to an existing one.
In 2003, Iran welcomed some 300,000 international visitors. This figure rose exponentially as interest in one of the world's most enigmatic and beguiling countries grew. By the fiscal year 2014-15, more than 5 million travellers visited Iran. As relations with the West improved from 2015 to today, the number grew further to 6 million in the year ending March 2017.
"In 2013 we took 40 people to Iran; in 2016 we took more than 600," said Jonny Bealby, founder of tour operator Wild Frontiers.
"Once [Mahmoud] Ahmadinejad was gone and [Hassan] Rouhani was in power – shaking hands with Obama at the UN, orchestrating the talks that would eventually lead to the nuclear deal, generally talking in more conciliatory terms – the perception of Iran changed and suddenly people wanted to travel there."
More and more visitors were witnessing first-hand Tehran's colourful Golestan Palace, the striking architecture of Isfahan and exploring the country's growing number of art galleries and museums. Iran boasts 22 Unesco World Heritage Sites, the 11th most in the world.
Hotel chains, including Melia and Accor, unveiled properties in the Islamic Republic, while UK-based EasyHotel signed an agreement to open 500 rooms in the country. Tour operators who had grown used to taking only a handful of people to the Islamic Republic were now inundated. Bolstered with optimism, the Iranian tourism ministry set a target of welcoming more than 20 million visitors by 2025.
Now, the fledgling industry, which accounts for more than 550,000 jobs, is threatened once again by political ill will. Officials say threats made by President Donald Trump have already impacted the year's tourism numbers, with a 15 per cent fall in arrivals anticipated for 2018.
Trump has until May 12 to decide if he will renew a waiver of sanctions imposed on Iran, retaining positive relations with the country, though it seems clear he will not. A flare-up of tempers in Syria where Iran is all-but fighting a proxy war with Israel is making matters worse.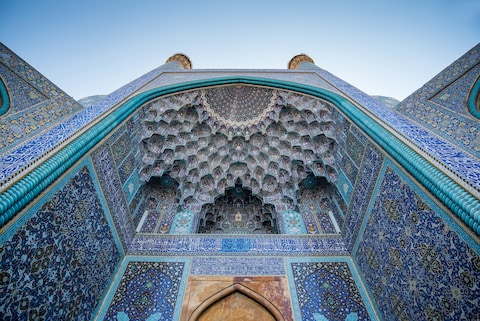 This week the Foreign Office updated its advice to warn of a "heightened risk of politicised demonstrations targeting Western interests" in the run up to the nuclear deal deadline.
Justin Francis, founder of Responsible Travel, which operates trips to Iran, is confident that the unrest will not put off British travellers from visiting. He says an "imagined hostility towards Westerners simply doesn't exist".
"From a tourism perspective, [Iran] has suffered with its safety image for many years," he said. "However, the type of travellers that go to Iran will already have their very own, strong reason for wishing to visit the country which will most likely be based on its astounding culture.
"These people have a passion and a pull to see the buildings, the arts, the textiles and to experience the warm and wonderful hospitality the country and its people can offer.
"Travellers interested in Iran are those who want to go to places that no one else really visits, and in my opinion that will continue."
David McGuinness, director of Travel the Unknown, however, says he has seen a "pause" in bookings.
"The number of clients from the US booking with us has decreased in the last few months," he says. "Doubts about President Trump's course of action have caused people to hold off on any decision. We expect that pause to continue for the moment while people watch how this develops, and whether Iran will be content with what the EU can offer. Obviously we hope they will find a way to agree."
He says that the country's long-term appeal as a tourist destination depends on how stable relations with the West remain.
"On the other hand, travel to Iran was perfectly safe for many years before the nuclear deal and we do not expect that to change in the near future," he added.
Source Link:- https://www.telegraph.co.uk/travel/destinations/middle-east/iran/articles/how-iran-tourism-industry-boomed-since-the-nuclear-deal/