Families in search of a last-minute bargain beach holiday would do well to consider Turkey, Europe's cheapest destination for summer according to new research.
The Post Office's annual Family Holiday Report, published over the weekend, compared prices in 15 sun and sea favourites, with the Turkish resort of Marmaris shown to be the cheapest option ahead of Sunny Beach, Bulgaria, and Spain's Costa del Sol.
The survey compared the average price of 12 common holiday purchases, including hire of a sun lounger, a meal for four in a local restaurant, and a bottle of suncream. The basket of items will typically cost around £80 in Marmaris, £84 in Sunny Beach, and £97 in the Costa del Sol. At the other end of the table are Nice, Ibiza Town and Sorrento, where the same purchases will set travellers back in excess of £200.
The methodology isn't perfect – savvy families can still devise a budget break in the costlier destinations, while hotel and flight prices are not included – but the report offers a fair snapshot of typical costs on the ground.
That Turkey should top the rankings is hardly a surprise – it has long been considered one of the best value destinations in Europe. But the value of Turkish lira has also plummeted in recent months, making it even better value for British travellers. The Post Office study revealed a 36 per cent year-on-year fall in prices and suggested that a family of four in Marmaris can eat out for just £10 a head (compared with £32 a head in Nice), while an beachside ice cream costs the equivalent of only 73p (in Nice it's £1.80).
Other destinations are the cheaper end of the table include Crete, Corfu, Paphos and the Algarve. Year-on-year prices were found to have fallen in a number of other places, including Corfu (-24.2 per cent) and Paphos (-10.4 per cent). However, prices have risen in the Algarve (+12.4 per cent) and Porec, Croatia (+18.5 per cent).
"The big variations in costs we found between the European resorts mean it really will pay dividends to do some homework before leaving home," said Andrew Brown, spokesperson for Post Office Travel Money. "If you haven't already booked and are looking for a late deal, the low resort prices in Turkey and Bulgaria make these countries great bets. In the Eurozone, Spain is still great value and the low prices we found in Corfu make Greece a good tip too."
Why go to Marmaris?
Turkey has had its political troubles in the last couple of years, and the hard-line policies of President Erdogan may make some travellers think twice about going. But money talks, and the low outlay required for a week in Marmaris is sure to be enticing.
It has some of the most reliable weather anywhere within a four-hour flight of the UK – you can expect temperatures which sizzle in the low Thirties during July and August.
There's plenty to do away from the beach, too. The obvious option is Marmaris National Park and the ancient ruins around its perimeter – including the glorious remnants of Erine (in modern-day Hisaronu), a Lycian city where buildings are still hewn into cliff-faces in a similar manner to Petra, but with far fewer admiring tourists.
What about Sunny Beach?
Less obvious are the delights of Bulgaria's premier Black Sea resort. Is it worth the potential savings?
"It's cheap and cheerful, with some fairly rough and ready communist-era constructions," said Telegraph Travel's Adrian Bridge following a visit to the nearby resort of Varna. "But there are some nice cafes and restaurants. We drank a couple of beers (£1.30 for two) and ate some delicious fresh fish. Over a shopska salad (tomatoes, cucumbers, olives and feta-style cheese), I was introduced to the pleasures of rakia, a fruit-based schnapps."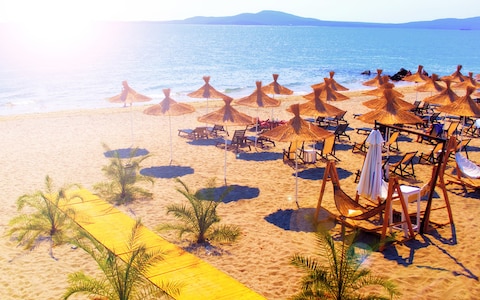 Ready to discover the Bulgarian Riviera?
Robert Nurnden, a former resident of Bulgaria, recommends another Black Sea resort: Sozopol. "It manages to cater for the young, party-going set from Sofia as well as those seeking something more sedate," he says. "The classy old town offers shoreline restaurants and bars where you can watch the sun slide down over Asia. To the south, miles of sandy beaches stretch as far as Turkey. To the north, Sunny Beach pulsates to the beat of 24-hour parties."
Source Link:- https://www.telegraph.co.uk/travel/news/turkey-cheapest-family-holidays-post-office/