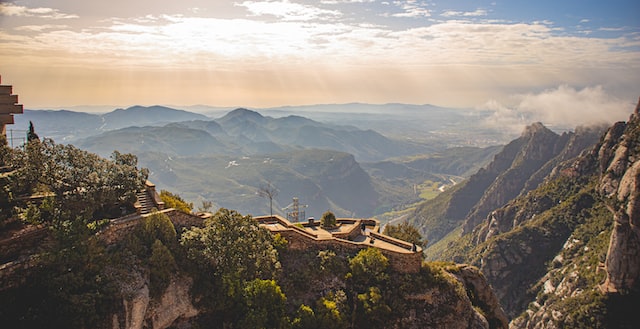 There is no doubt that Spain is a very touristy country. The country has hundreds of charming villages and beautiful cities, or in other words, thousands of places to visit, where we can go on a family getaway.
However, with so many places to visit, it is difficult to find the most beautiful in Spain. For this reason, we dedicate this article to the 4 most magical and lesser-known places. You will see how Spain is a great place to travel!
1. San Miguel de Fay Monastery
If you are a lover of hidden corners, you are going to love this monastery. Actually, the beauty of this place is not so much its monastery, but its natural surroundings. This building is embedded in the side of a mountain and has spectacular views.
As we said, what really makes this place special is the spot where it is located. During your visit, you will have access to several caves and you will be able to photograph a great waterfall from behind, yes, from the inside, as you can walk along a path that passes just behind the waterfall. Impressive!
The Monastery of San Miguel del Fai is in the province of Barcelona, and to get there you'll have to take a winding road. The good thing is that there is a large car park right next to the monastery. Inside the grounds, you can buy food and drink.
2. Gulpiyuri Beach
Gulpiyuri beach is located north of the village of Naves, halfway between the towns of Ribadesella and Llanes, Asturias. To reach this beach it is necessary to walk a short distance from the beach of San Antolin, so at the end of the road, we can find the beach, which by its almost hidden location, has allowed it to be preserved practically intact.
What makes this beach so special is precisely its location, since, despite being a beach, you do not expect to be able to see the horizon, on the contrary, what you will see is a small mountain with a small hole through which the seawater passes, forming a small inland beach.
The landscape and its shallow waters make it ideal for an afternoon or a moment of rest in the middle of a jewel of nature. A charming place, one of those that you cannot miss in life. Put it on your must-have list!
3. Montserrat Monastery
The monastery is located on the mountain of Montserrat, in the province of Barcelona. The surrounding natural environment is of unparalleled beauty. For hikers, it is the perfect place, as there are several routes of varying difficulty, but all of them with spectacular views and unforgettable corners.
This natural park will leave you speechless. So now you know, if you are in the Catalan capital, and you have a day to spare on your holiday, this excursion should be on your list.
4. Gaztelugatxe Islet
Gaztelugatxe is located in the town of Bermeo, in Vizcaya (País Vasco). It is basically an islet that is joined to the mainland thanks to a bridge that was built to connect the two points.
To reach this small islet, you will have to cross the bridge and climb its 240 steps. It's a good walk, and you'll be able to enjoy the beauty of the landscape and the sea. At the top, you will find the hermitage of San Juan, whose construction dates back to the 10th century.
It is recommended that all visitors make this visit in spring or autumn to better enjoy the scenery and the tranquillity of a walk. You will love this place!