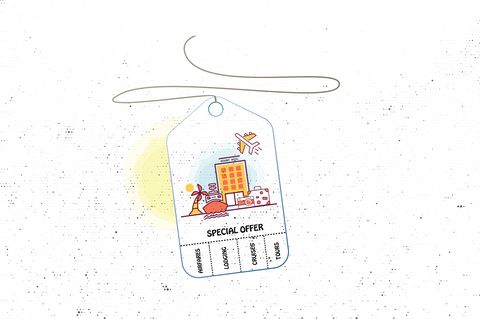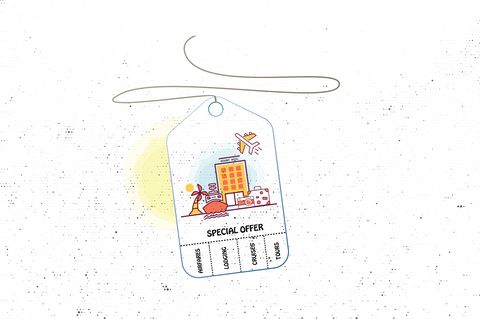 That chatty seatmate who can't help bragging about how he paid chump change for the same flight that set you back a paycheck. The email offering a rock-bottom sale on the room you just prepaid as nonrefundable. The Caribbean cruise you got for next-to-nothing, but then you maxed out your credit card with all the extras. We've all been there. Here are strategies to transform you into the slightly smug person listening while others whine about the high cost of the travel — but no gloating allowed.
• New apps and websites pop up constantly, all purporting to be the Holy Grail of low fares. Spend some time getting familiar with several and then choose a couple of favorites to use regularly. Some sites, such as Kayak, are aggregators, meaning they will scan airlines and other sites and point you somewhere else to buy it. Others, such as Expedia, are third-party booking sites. But keep in mind that they might not offer the full picture: Southwest, for example, does not sell through third-party sites.
Be aware that acquisitions have narrowed the playing field. Expedia, for example, now owns many major travel sites, including Travelocity, Orbitz and Hotwire; Booking Holdings owns Priceline, Kayak, Momondo and Booking.com. Other sites worth exploring include Hipmunk, Google Flights, CheapOair, Airfarewatchdog and Skyscanner. (Most also have an app.) And don't neglect stand-alone airfare apps, including Hopper, Kiwi and Hitlist.
Always check fares sold by third-party booking sites against the prices offered by the airline, as finger-pointing can be an issue when plans go awry. Take a look at sites such as Scott's Cheap Flights, which notifies subscribers when airlines make pricing mistakes.
• Once you choose a destination, start tracking the fares. (Most sites and apps offer tracking features.) Many contradicting studies have been published about issues such as the best days to buy and travel, and how far in advance to purchase. Instead, familiarize yourself with the going rate. When a sale hits, don't hesitate, as it probably won't last.
• Flexibility is key. Alternative airports (such as BWI Marshall instead of Washington Dulles International Airport or London Stansted instead of Heathrow Airport), connecting flights, very early or very late departures and midweek flights are often cheaper.
• Think outside the legacy, or major, airlines. Check the airport websites to identify every airline that serves your destination, because some — such as Southwest — don't show up on third-party sites.
• Fees are the new normal. Nearly every airline, including the so-called legacies, now offer sub-economy fares that don't cover checked bags or advance seat assignments. (Southwest is the outlier.) Some discount carriers, including Allegiant and Spirit, also charge for carry-on bags and even printing a boarding pass at the airport. International carriers are no exception. Most discount carriers, such as WOW and Primera, charge extra for everything from bags to meals. Take this into account when researching fares. Airlines often waive fees for travelers who have amassed frequent-flier miles or use an airline-branded credit card.
• Don't get obsessed. When the fare hits a chosen target, buy and don't look back.
• Scoring the best rate has grown more complex as more websites expand their inventory beyond simple hotel rooms. First, settle on a lodging style. Renting a condo, apartment or house from an owner is typically less expensive than booking a hotel with amenities — but room service won't be an option.
• Sites such as HomeAway (part of the Expedia family, along with VRBO and VacationRentals), Airbnb, TripAdvisor (also owns FlipKey) and Booking.com are the online heavy hitters for private rentals. There are also niche sites, including onefinestay, which specializes in luxury rentals; Wimdu, for rentals in Europe; Homestay, for travelers who want to lodge with a family; and misterb&b, which caters to gay travelers. Be aware of laws regulating short-term rentals, as some cities, including Miami Beach, New York City and Los Angeles, have launched crackdowns. To protect your vacation, read the reviews from other renters before committing and never, ever wire anyone money. In many resort communities, contacting a local real estate agency that handles private rentals is still the way to go. Reach out to the area's tourism office for a list of reputable agencies.
• Some of the same sites that offer private rentals (TripAdvisor and Booking.com, for example) also list hotels, and many of the big online travel sites with airfare search tools (such as Kayak) also cover hotels. TripAdvisor and Hotels.com are good places to start for reviews, locating properties on a map and determining price points.
• Join the major chains' membership clubs and download their apps. Hilton Honors, IHG Rewards Club, Marriott Rewards, Starwood Preferred Guest and Hyatt Rewards cover most of the major chains, and all offer members-only deals.
• Apps such as HotelTonight and One:Night are worth a look, especially for last-minute reservations.
• Nonrefundable rates are cheaper, but think twice before going that route. The hotels are serious: No money back if you cancel. For refundable rates, pay attention to the advance cancellation rules, as many hotels have tightened their deadlines to at least 48 hours.
• Before booking, check out the price on the hotel's website, as many are now undercutting third-party booking sites and offering Web-only discounts. If the price is still not right, pick up the phone: Reservationists, especially at boutique hotels, may have the power to offer an even better deal.
• Cruise lines tightly control pricing, so there is little chance of snagging an incredible discount from a third-party booking site. Instead, cruise companies reward loyalty. The more cruises you take with a specific line, the better the perks.
• Travel agents remain relevant, as they receive commissions from the lines. Agents who sell a high volume of cruises are often rewarded with goodies that they pass on to customers, such as cabin upgrades, private cocktail parties, shipboard credits and specialty dining. Word of mouth is the best way to find a good agent. Cruise Lines International Association, the cruise industry trade association, offers a cruise-agent finder. Or post your desired cruise on CruiseCompete, which compares offers from multiple travel agents.
• Websites that specialize in cruising may offer incentives and discounts. Cruise.com, CruisesOnly, SeaHub, iCruise.com, VacationsToGo.com and CruiseDirect are some of the top sites. Cruise Critic provides a wealth of information on all aspects of cruising and is a great resource.
• The best deals often appear during Wave Season (January through March), although this is becoming less important, with sales popping up year-round on the cruise companies' websites. Seasonal pricing also varies. For example, Caribbean cruises are typically cheaper during hurricane season — be aware that the cruise lines reserve the right to make weather-related itinerary changes — while Alaska cruises are less expensive in spring and fall. One-way repositioning cruises, which spend many days at sea as a ship makes a seasonal move from one area to another, say from Asia to Alaska, are also often a bargain.
• Don't get sucked into a low price only to pay a fortune in extras. Shore excursions, specialty restaurants, room service, alcohol, exercise classes, photos and WiFi can add up. Look at alternatives. For example, most cruise lines promote beverage packages, which can be a good deal for imbibers, but check the math before buying. A shore excursion that is basically a bus trip to a local beach can be easily done with a cheaper cab ride, although the ship won't wait for those who lose track of time and aren't on a sanctioned tour.
Package tours
• The pricing is in the details. Read the fine print before opting into a tour. Are meals included? Airport transfers? Sightseeing entrance fees? Tips? Extras can add hundreds to the price.
• The United States Tour Operators Association is a good online resource. A multitude of tour companies cover the same itineraries, so you can comparison shop.
• Major Web travel sites, such as Kayak and Travelzoo, also list vacation packages. For an independent — rather than an escorted — experience, many airlines offer money-saving packages by bundling airfare with hotel and land transportation. Discount tour operators, such as Gate 1 Travel, World Spree, Go-Today and Great Value Vacations, offer good pricing on popular itineraries. Book early or last minute to score the best deals.
• Membership organizations such as AAA, AARP and Costco often have good prices. (Check them out for hotels and cruises, too.)
• Traveling solo? Look for tour operators that will match singles as roommates, such as Intrepid Travel and G Adventures.
Sottili is a former Washington Post travel writer, specializing in travel deals.
More from Travel:
Answers to your top questions about traveling to Europe
A visitor's guide to Washington area beaches
How to choose the right cruise
Source Link:- https://www.washingtonpost.com/lifestyle/travel/the-frugal-travelers-essential-list-of-budget-travel-hacks/2018/08/01/7f43e210-9048-11e8-8322-b5482bf5e0f5_story.html