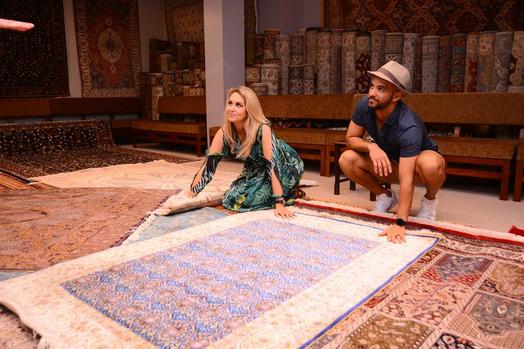 Celebrity couple JP and Sue Duminy along with baby daughter, Isabella, spent some time in Istanbul before the arrival of their second child. Picture: Supplied.
Celebrity couple JP and Sue Duminy along with baby daughter, Isabella, recently spent time in one of the most beautiful cities in the world, Istanbul. 
Sue is 7 months' pregnant so foreign travel will be off the cards for a while. 
The Duminy's discovered the extraordinarily rich architectural and natural splendours of Istanbul, the historic bridge between Europe and Asia, and relished the world-famous cuisine. 
They share their travel tips: 
How do you both prepare for an international trip?
We have done so many now so it is kind of second nature. We ask each other a whole bunch of questions after the packing like "Did you pack your socks, passport, charger and medication etc."
Window or aisle?
When we fly alone – window. If our daughter is with or me being pregnant currently – aisle (there are a lot of toilet trips happening haha!) 
Must-pack item?
What are the top 5 things you need to pack for this trip to Istanbul?
Camera, comfortable shoes, pashmina, light back pack and small local currency for the markets
Which country stands high on your bucket list?
Istanbul has been on Sue's bucket list for 25 years. 
My parents travelled there when I was a young and brought me post card memories, traditional Turkish outfits and coffee cups. I have been longing to explore Turkey and their culture ever since. 
What are your top travel tips for travelling with a toddler?
– Always travel with a full medication kit, antibiotics included!
– Always fly during the night or nap time.
– We always pack a new toy when we travel. If she gets difficult and grumpy it's a saving grace! Oh and a lot of snacks too. 
– If the Mom is calm and collected your toddler will be too.
– Only pack what you really need. I prefer backpacks to baby bags as your hands are free to carry/handle your toddler. 
– My stroller is super small and light and fits in the overhead compartment of the airplane. This comes in handy especially with airport stop-overs and long passport control queues!
Funniest travel story?
We once visited a very isolated village in India. When we arrived in our room, we were welcomed by a whole cockroach family showing us around. The hygiene wasn't great either so we had to shower with our flip flops on or as night approached and we got into our bed we both looked at each other and suddenly broke out in the craziest itch. The bed bug family seemed to have welcomed us. We ended up sleeping on top of all our clothes we packed for the trip! 
Some traveling hacks?
– Rolling your clothes takes way less space in your suitcase than folding! 
– I always carry my heaviest jewelry in my handbag. 
– Download apps to make your travels easier at your destination. 
We always travel with the "entertainer" app on our phones, most countries support it and buy-one-get-one free when it comes to meals, hotels, spas and entertainment can do a lot for the budget! 
– Make friends with the locals – we have seen some pretty insane secret spots not known to the usual tourist crowd. 
– Always buy diapers at your destination. Our motto is "if it consumes space and weight, and is cheap enough to buy at your destination, do so!"  
Travel motto?
It's very seldom that things go 100% according to schedule when you travel. Always be open and patient and adaptable to change when it comes to traveling. 
Favourite airline? 
Turkish Airlines. I mean have you seen their 5-star Business Class offering?! They have an on-board chef which makes JP's selective food choices a breeze and the fact that they offer a free Istanbul Tour for Turkish Airlines passengers with a layover of between 6-24 hours. That's exploring 2 countries with one ticket! 
Source Link:- https://www.iol.co.za/travel/world/travel-tips-from-the-duminys-15673576