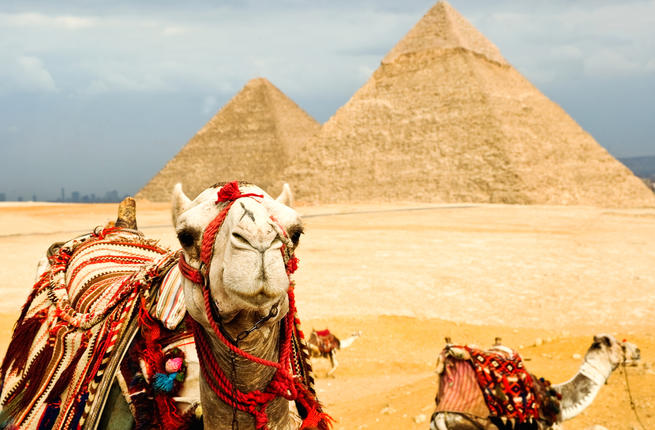 Camel in Egypt (Shutterstock)
It seems Egypt is putting on a good show in front of the world, and not just in football.
In a poll titled "Travel World Cup", which was posted by British newspaper The Telegraph, comparing World Cup groups as travel destinations, Egypt came as the voters' most popular travel destination within group A, surprisingly taking over Russia and Uruguay and less surprisingly taking over Saudi Arabia.
Telegraph Travel posted a tweet on 14 June asking twitter users "Which of the Group A teams is your favourite holiday destination?" Out of 880 votes, Egypt won 37 percent of the quota, followed by Uruguay, which earned 33 percent of the votes and Russia which came in third, winning 17 percent of the votes. And finally, Saudi Arabia which is at the end of the list with only 11 percent of the votes.
The result comes after a tough period for Egyptian tourism. Since the Arab Spring in 2011, Egypt's tourism took a sharp decline.The number of tourists plummeted from 14 million tourists in 2010 to 9 million by the end of 2011. The decline continued as 2014 witnessed yet another low for Egyptian tourism. The number of tourists in 2014 were 25 percent less than the number of tourists who visited Egypt during the same period in 2013.
However, since then, Egypt has gained a lot of the ground it lost as a travel destination. In 2017, Bloomberg ranked Egypt as one of its top 20 travel destinations, saying the country has "shed its years of social and political unrest."
Moreover, in June 2018, Marsa Alam's Sharm Al Luli beach was ranked among the top 25 beaches worldwide in the 2018 Traveller's Choice Awards rankings by TripAdvisor.
The numbers echoed the great reviews Egypt has been receiving. From January until November 2017, 7.5 million tourists visited Egypt, according to numbers by the Egyptian government. This marked a 54.7 percent increase from 2016 statistics during the same period.
This is Egypt's first participation in the World Cup since 1990. So far, Egypt lost to Uruguay 1-0 after a strong performance in its opening match. Egypt is set to play against Russia on Tuesday, followed by Saudi Arabia on Monday 25/6.
This article has been adapted from its original source.
Source Link:- https://www.albawaba.com/editorchoice/travel-world-cup-poll-egypt-most-popular-destination-1146370