Onomichi, Japan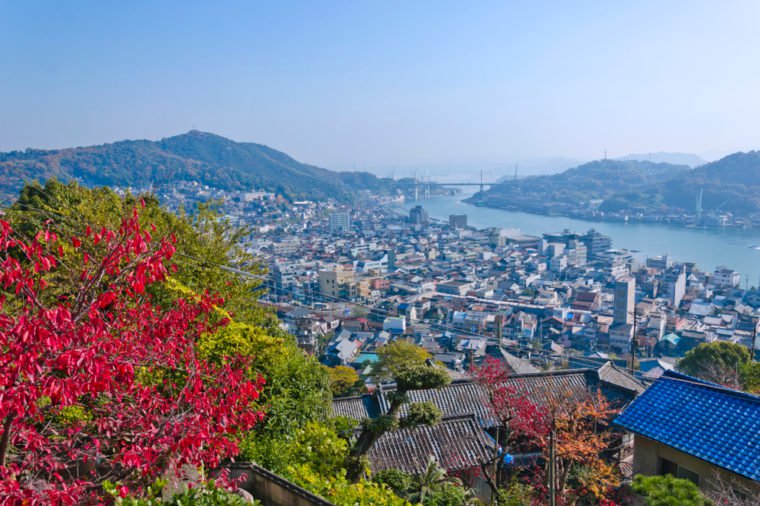 Thanya Jones/Shutterstock
Onomichi is an old-timey port with a tranquil vibe. Set in eastern Hiroshima Prefecture, it's distinguished by sloped lanes, traditional houses, and heritage sites. A designated walking route, called "Temple Walk," gives visitors the opportunity to soak in all the nostalgia while trekking up and down the narrow corridors. Prefer not to hoof it? A ropeway runs to the hilltop Senkō-ji Park, prized for its 9th-century Buddhist temple and stunning views. Nipponophiles won't want to miss these hidden gems you can only see in Japan.
Kastellorizo, Greece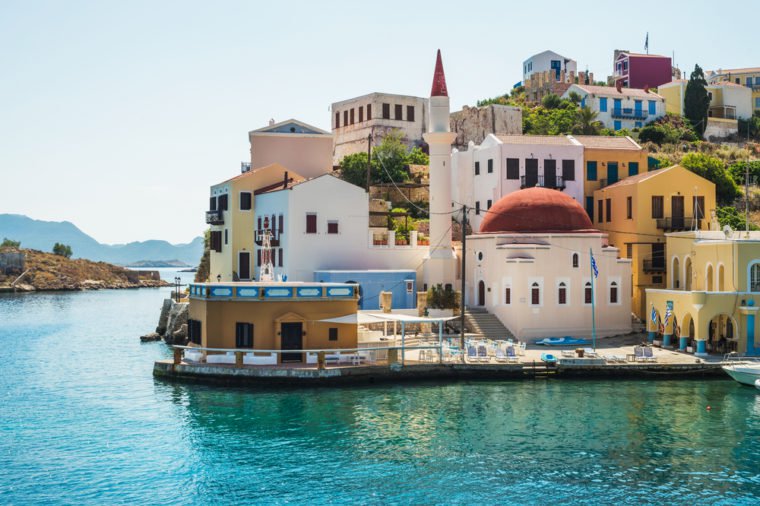 Foxys Forest Manufacture/Shutterstock
What if we told you there's an underground cave that's larger than Grotta Azzurra off the coast of a low-key Grecian islet? Kastellorizo has many things to be proud of—magnificent views, Mediterranean ambiance, and film credentials to name a few—although its most celebrated attraction is without a doubt the breathtaking Blue Cave. So, how has it managed to stay a secret? Santorini and Mykonos sort of hog the spotlight. These idyllic isles are certainly worthy of praise, but with that said, Kastellorizo is too. No wonder it made our list of European islands you never thought to visit—but totally should.
Gdansk, Poland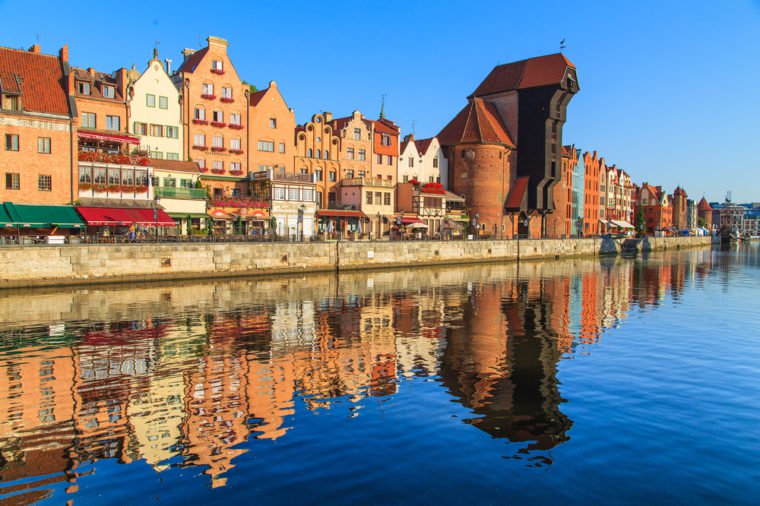 Krzyzak/Shutterstock
If you ask us (and anyone who lives in Poland or has ever visited) Gdansk has been flying under the radar for far too long. Seriously, its fascinating history dates back a thousand years. Its where the opening shots of World War II were fired and was instrumental in the fall of communism. As to expected, there's an array of noteworthy landmarks. More surprising? It's the center of the amber trade. There are tons of boutiques that sell gemstone jewelry and even a dedicated museum.
Ballymote, Ireland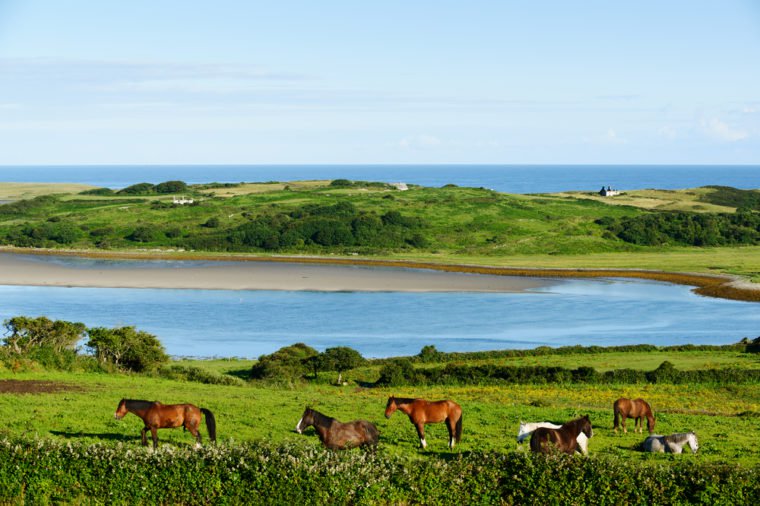 alexilena/Shutterstock
Dublin is dazzling, but there's plenty of awe-inspiring places outside of Ireland's capital (which by the way are every bit as photogenic). Take Ballymote, in southern County Sligo, for example. On the outskirts of this historic hamlet is the impressive ruins of an Anglo-Norman castle Built by Richard de Burgo, the Red Earl of Ulster, in 1300, this mighty fortress was, back then, the strongest citadel in Connacht. Today, it's an enduring reminder of an era gone by. A short walk away is the ivy-covered Ballymote Abbey as well as quaint cafés. On your trip to the Emerald Isle, make these undiscovered gems are on your radar.
Content continues below ad
Chanthaburi, Thailand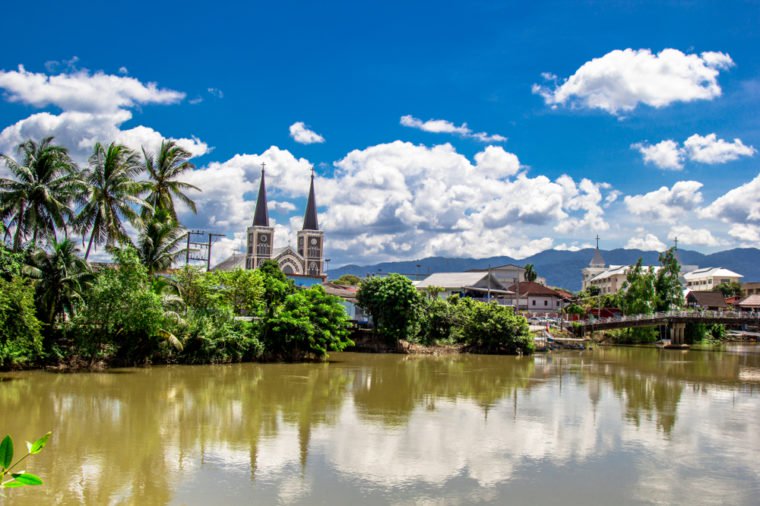 kittisak jongkrit/Shutterstock
Why more tourists aren't flocking to Chanthaburi, we'll never understand. This intriguing locale, a three-hour drive southeast from Thailand's modern capital, Bangkok, is brimming with Buddhist temples, colorful markets, and historic shrines. Nearby, Namtok Phlio National Park has its fair share of glimmering lagoons, gushing cascades, mossy pagodas, mangrove forests, and exotic wildlife. Here are some other places to visit that deliver some major bang for your buck.
Doc Let, Vietnam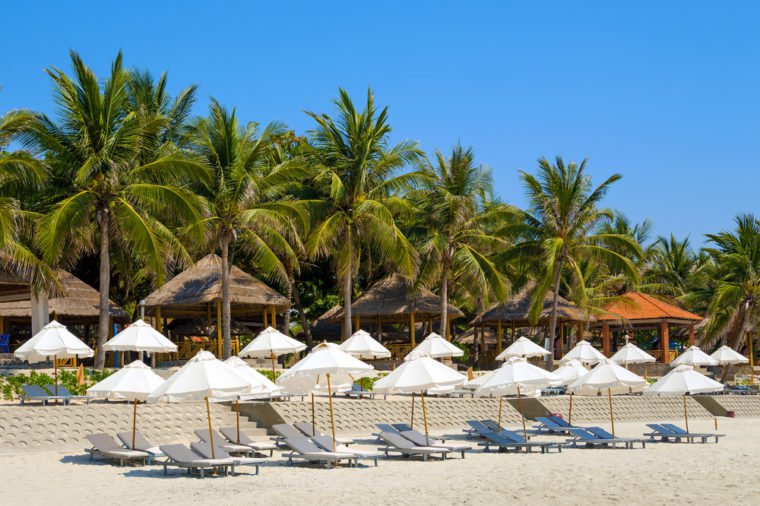 Windofchange64/Shutterstock
Just an hour north of the ever-popular resort of Nha Trang is Doc Let, a sleepy seaside village with a spellbinding 10 miles of powder-white sand and turquoise water. The pace is relaxed and locals are warm. Plus, the food is delicious (you'll often see local fisherman cooking fresh-caught fish). Coupled with the fact that Vietnam is among the fastest-growing tourism destinations in the world and it's borderline inconceivable that more people don't visit, let alone know about, Doc Let.
Kotor, Montenegro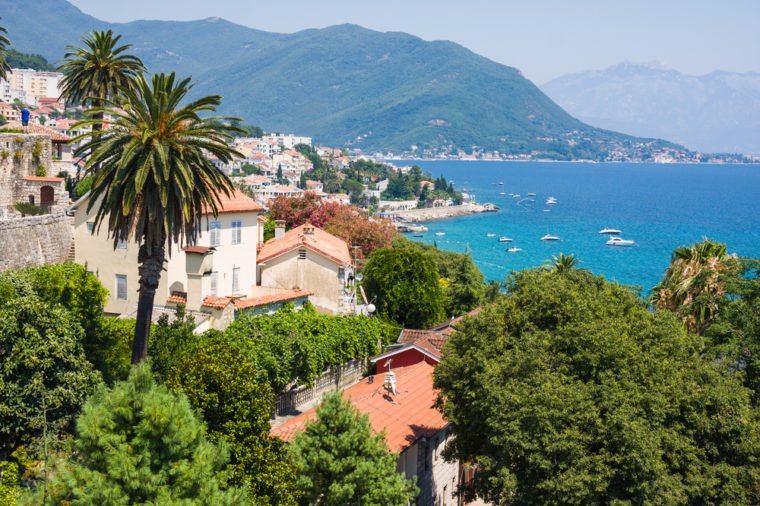 Irina Papoyan/Shutterstock
Kotor doesn't get the credit it deserves. Situated in a sapphire bay near the picturesque cliffs of Mt. Lovćen, this coastal enclave is endlessly charming. Its medieval old town is filled with meandering streets, squares, monuments, and cathedrals. You'll also find distinctive museums. One is dedicated to nautical heritage, while the other displays a collection of cat-themed memorabilia and artwork.
Hahndorf, Australia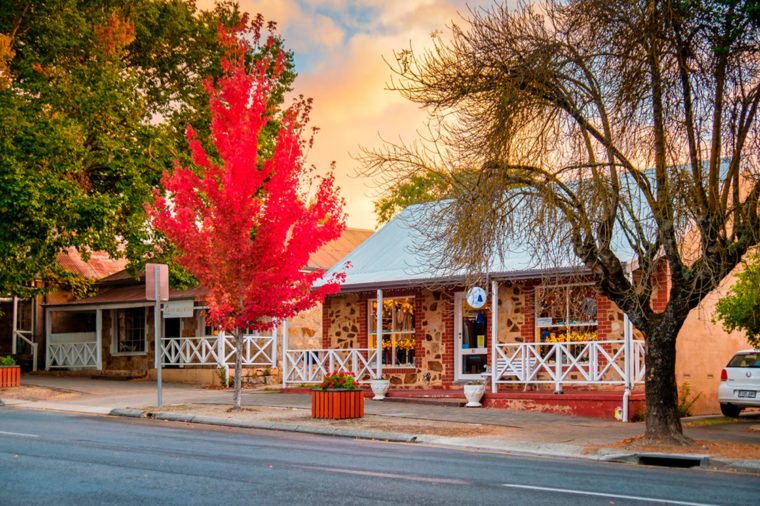 amophoto/shutterstock
From Sydney and Melbourne to Brisbane and Darwin, Australia abounds with hot spots. However, the less prominent locales prove equally compelling. Settled by 19th-century Lutheran migrants, Hahndorf is the oldest surviving German settlement in Oz. On the itinerary? Peep traditional fachwerk architecture, peruse artisan shops, sip craft beers, and learn about local culture at Hahndorf Academy. Don't miss these other must-see towns in Australia.
Content continues below ad
Mt. Huashan, China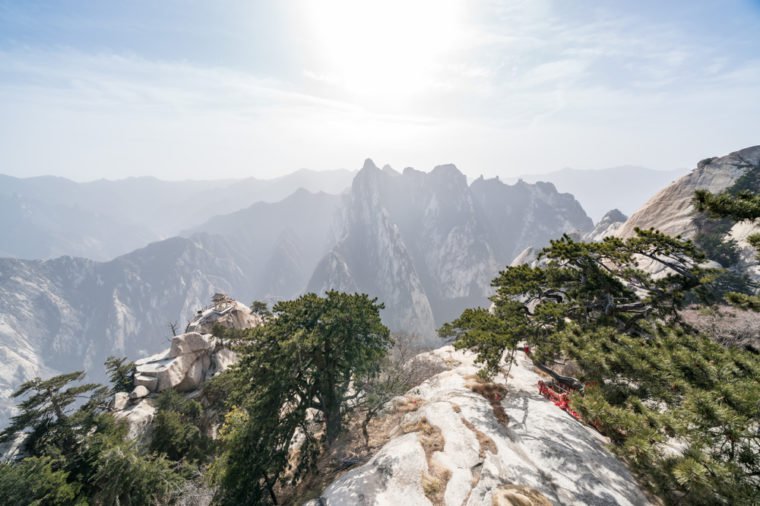 Terry Sze/Shutterstock
There's more to China than Beijing, Shanghai, and Xi'an. Case in point: Mt. Huashan. This sacred mountain is both fear-inducing and fantastical. Thrill-seekers can attempt the adrenaline-pumping climb to the top. Vertical ascents and wooden plank path make it one of the most dangerous hikes in the world. If terrifying treks aren't your thing (and we totally get it) you can still gaze at all the alpine glory from the safety of a cable car. Don't miss these extreme escapes around the world.
Pai, Thailand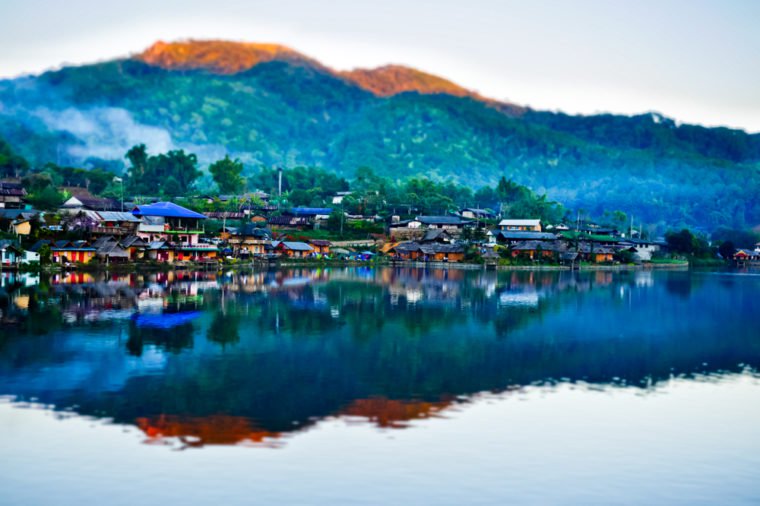 Nuttakan Peawyoo/Shutterstock
Most folks spend their days in Bangkok and Chiang Mai (both of which are certain must-visits), but in-the-know travelers carve out time to visit Pai. Some have called it a carbon copy of the latter, except for quieter and more compact. But that certainly does mean you'll be bored! Downtown brims with handicraft vendors, food stalls, and vegetarian restaurants. Just outside are natural attractions such as Mo Paeng Waterfall, Pong Nam Ron Thapai (hot springs), and Pai Land Split. Get inspired with these breathtaking waterfall pictures.
Lapland, Finland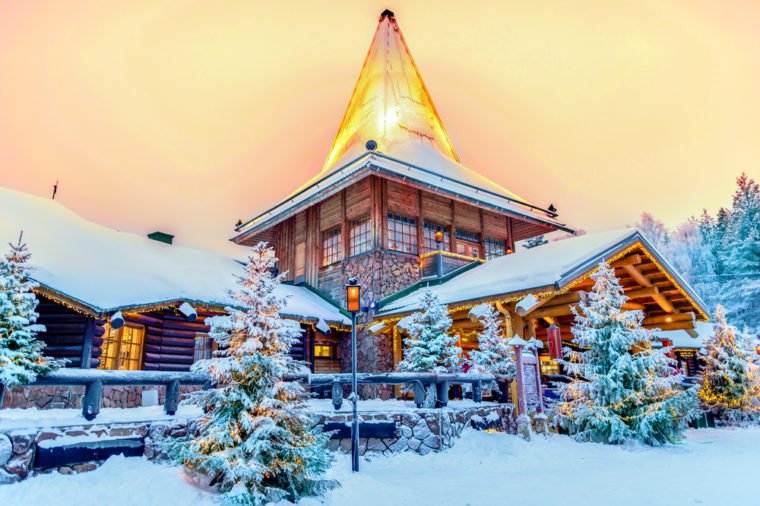 Aleksei Verhovski/Shutterstock
Lapland should be on everyone's wishlist. Finland's northernmost region is a sparsely populated playground of snow-capped wilderness, ski resorts, and arctic adventure. Its capital, Rovaniemi shines come Christmas as the official home of Santa Claus. But perhaps the biggest draw is the spellbinding natural phenomena, from the Northern Lights in the winter to the midnight sun in the summer.
Tomar, Portugal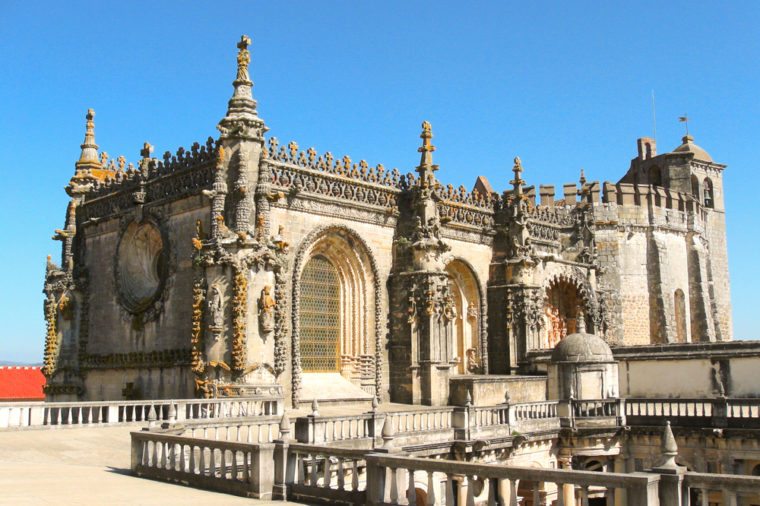 Elenapavlova/Shutterstock
Tomar played a crucial role during the Middle Ages, yet few outside of Portugal are familiar with this appealing town in the Iberian Peninsula. So, here's the scoop: It served as the religious headquarters of the Knights Templar for a whopping 700 years. Constructed over the course of five centuries the Convent of Christ is an architectural marvel of considerable import. The expansive hilltop complex is a mesmerizing mix of Romanesque, Gothic, Manueline, Renaissance, Mannerist, and Baroque elements and is widely considered to be one of the nation's finest monuments. Portugal is also among the most affordable places to go in 2018.
Content continues below ad
Tobermory, Ontario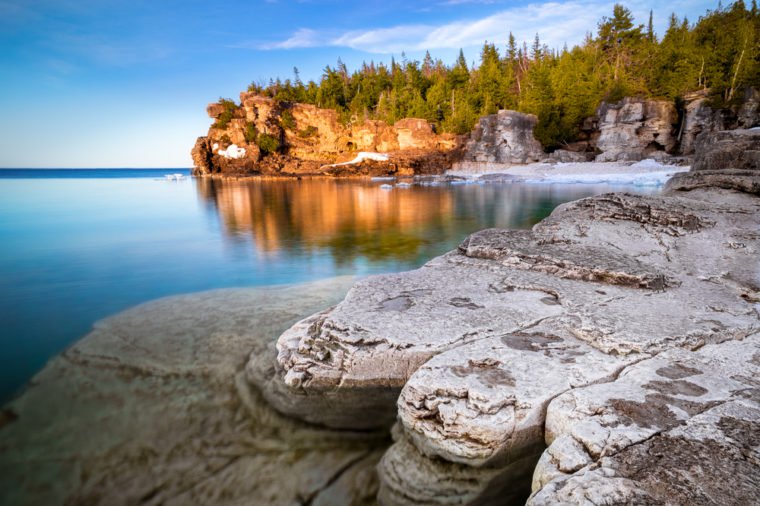 Dan Sedran/Shutterstock
Be honest, you probably weren't aware Tobermory existed until now. This harbor village in southern Ontario is the gateway to scenic beauty. Bruce Peninsula National Park boasts Niagara Escarpment, Indian Head Cove, and the Grotto, a limestone cave in Georgian Bay. Fathom Five National Marine Park features Flowerpot Island, 19th-century lighthouses, and multiple shipwrecks. Need help choosing your next trip? Here's how to pick the best vacation based on your personality type.
Source Link:- https://www.rd.com/advice/travel/underrated-travel-destinations-in-the-world/