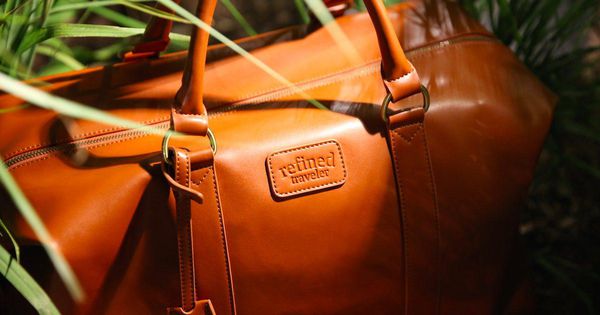 Vegan fashion was cited as major trend for 2018, according to The Future 100 Report. A trend that keeps gaining momentum.
Vegan consumers continue to sprout new industries (vegan travel being one) while bringing fresh air to others. 
The global luggage and travel bag industry is no exception, with consumers demanding more from luggage makers.
Namely, travel bags made with animal-safe, environmentally-friendly materials.
Grand View Research found that "animal rights" were the biggest driver of new vegan leather sales. Google search data supports the rising interest in vegan leather and vegan travel bags.
"What is vegan leather made out of" is under breakout status on Google Trends, which means it's search growth has been over 5,000 percent in the last 12 months.
Other vegan travel bag related terms like "affordable vegan handbags" have seen a 1,200 percent increase in search volume over the last 12 months, according to a Keyword Tool analysis.
"Leather will stay a premium offering in the market. However, environmental concerns and functionality limits are expected to hinder its growth…" said Anurup Roy, an associate consultant with Future Market Insights.
"Key players are addressing environmental concerns by opting for more sustainable materials." Materials like vegan leather.
What is vegan leather?
Vegan leather is synthetic leather. The global synthetic leather market is set to be worth an estimated $85 billion by 2025, according to Grand View Research.
Current vegan leathers, synthetic leathers or leather alternatives include everything from apple peels to lab-grown spider silk. 
But the majority of vegan leather is either made with polyvinyl chloride or polyurethane.
Polyvinyl chloride (PVC) is, according to the U.S. National Library of Medicine, "made from vinyl chloride, which is listed as a human carcinogen in the Fourteenth Report on Carcinogens published by the National Toxicology Program".
Greenpeace, an environmental non-profit, called it the "single most environmentally damaging type of plastic".
This is a result of the dioxins created during production of PVC. Dioxins are dangerous environmental pollutants, according to a 2016 World Health Organization fact sheet on the subject.
Meanwhile, polyurethane (PU) is water resistant, sun resistant, lightweight and flexible (even wrinkling like real leather after prolonged use).
Like PVC, or any other mass manufactured product, PU comes with an environmental cost. However, it's cost is significantly less than PVC, as production does not release dioxins into the environment.
PU is made by coating a backing material such as cotton or polyester with a flexible polymer to impart a leather-like appearance. This coating is why vegan leather bags are strongly resistant to scratches, cracks or peeling, too.
But even PU bags are not without an environmental cost, as it's a petroleum intensive process creating it. But it is animal free.
As PETA put it:
"Turning skin into leather takes loads of energy and a toxic brew of chemicals—including mineral salts, coal-tar derivatives, formaldehyde, oils, dyes, and finishes, some of them even cyanide-based."
Vegan leather bags and other leather alternatives are creating new opportunities for travel bag buyers and sellers everywhere.
Source Link:- https://www.forbes.com/sites/brianroberts/2018/07/26/vegan-leather-bags-the-next-big-travel-accessory/